Four Moving Companies that Use Bicycles
2012-11-08 (updated 2012-11-27)
You may have seen pictures or videos online of individuals or community groups that have moved households using bicycles. Not as well know are that some moving companies do some or all of their household moves by bicycle, too.
Why Household Moving by Bike Makes Sense
There are at least six reasons why a mover might choose using bikes over a truck for local moving jobs:
Lower capital cost The cost of 4 mountain bikes and 4 extra large, high capacity bicycle trailers would be less than 1/4 the cost of a new cargo van yet could carry more in both weight and volume.
Minimal operating cost Bikes don't have the ongoing fuel, license, parking, and maintenance costs of a truck.
Greater speed Using a truck, the contents of the entire house are loaded before the truck can be moved. By contast, each bike used in a move can be off for its destination as soon as it is loaded. This means an entire household can be moved using bikes in almost the time it takes to load a truck.
Greater flexiblity A mover with two (or more) small moving jobs can split a fleet of bikes (and their riders) to do multiple jobs at the same time, making it possible to do more moving jobs in one day.
Lower environmental footprint Bikes require far fewer resources to manufacture and operate and don't emit CO2. This can be important selling point to some customers.
Great source of publicity Bike moves are novel, highly visible events that easily attract the attention of the local media.
Currently, four moving companies are using bicycles and Bikes At Work
bicycle trailers
for household moving. They are:
Déménagement Myette
Déménagement Myette [English Version] was started by Julien Myette in 2008 in Montreal, Quebec, Canada. They are a bike-only mover (i.e., they do not use trucks) and use six Bikes At Work trailers. Over the past four years, they have served 1500 clients and produced some of the most amazing photos and videos of what is possible using bicycles and trailers.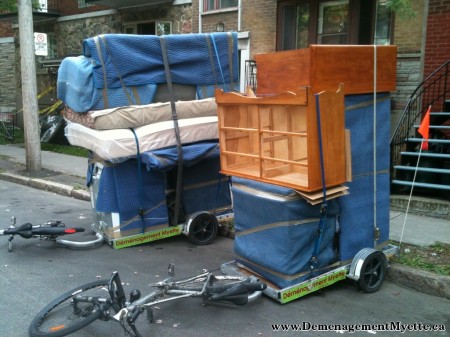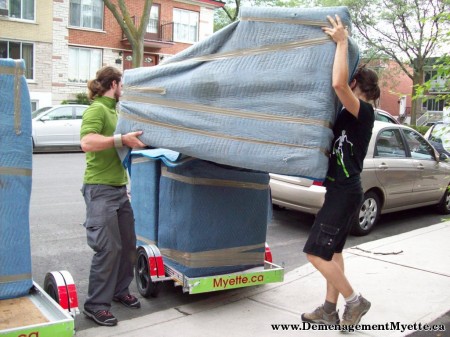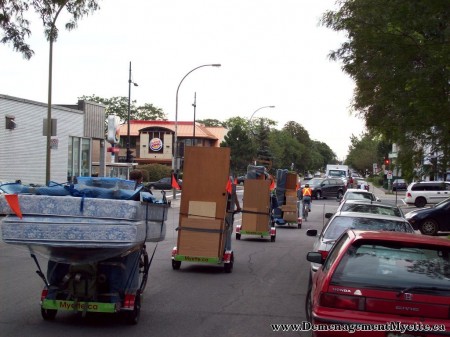 (Press the "cc" button on the player to get translated captions)
Julien's work has inspired others to get into the bicycle-powered moving business.
Move By Bike
Move By Bike was started in Malmo, Scania, Sweden in April 2012 by Johan Wedin. Like Déménagement Myette, they are a bike-only mover, but they also transport other cargo in addition to furniture moving. They operate a fleet of three Bikes At Work bicycle trailers.
Here's a short promotional interview with one of their customers: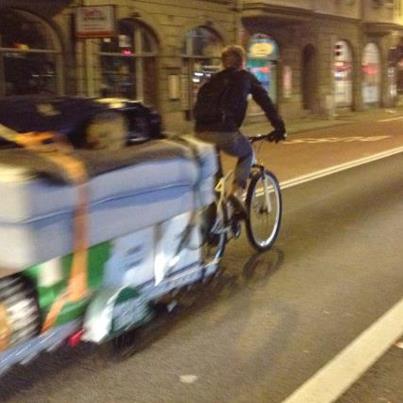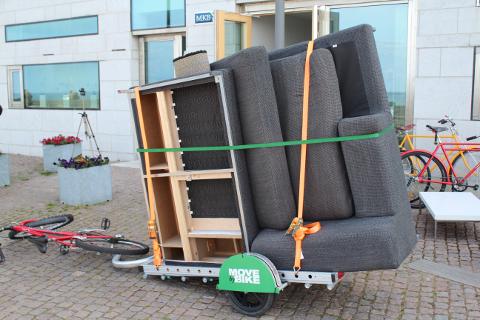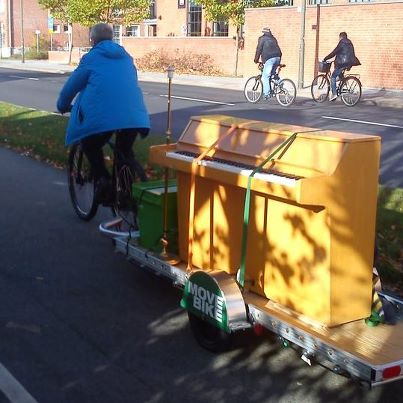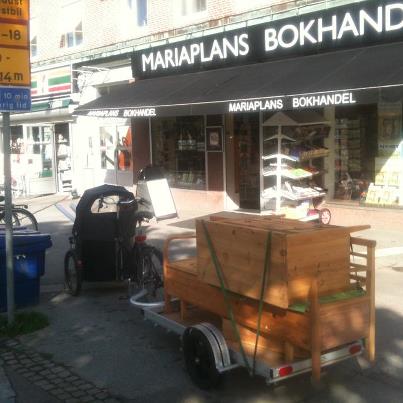 Move By Bike has a great collection of photos on their Facebook page you should check out.
The last two moving companies are traditional truck-using moving companies that use some of our trailers for downtown moving.
Gentle Giant Moving Company
Gentle Giant Moving Company is a traditional truck-using moving company in Boston, Massachusetts that uses five Bikes At Work trailers for their customers who desire a bike-only move. According to their press release, the service was started when a local cycling enthusiast began helping people move furniture and boxes around with his bike and trailer. After some success, the cyclist brought the idea to Gentle Giant because he thought the company would have the resources to make bicycle-based moving more widespread.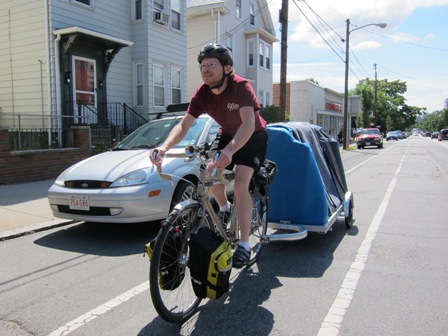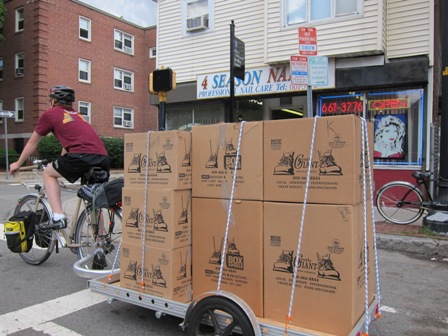 The press release says "[c]ustomers choosing the Bike Moves service will get a minimum crew of two Giants with one or two bicycle rigs, with the option of a third rig and additional Giants if needed. If a customer is unsure whether Bike Moves service is the right choice for them, Gentle Giant will do an on-site visit with the customer to help decide." (Since issuing this press release, Gentle Giant has added three more Bikes At Work trailers to their fleet, and upgraded the capacity of their other trailers from 300 lb /140 kg to 600 lb / 280 kg.)
Vic's Moving & Storage
Vic's Moving & Storage is a Kansas City, Missouri-based traditional moving company that also added bicycle moving as an option in a trial this year. They use three Bikes At Work trailers. According to this article [pdf] in the Kansas City Greenability Magazine, the service is available May-September to customers in the downtown area moving up to three miles and having no more than six trailer loads to move.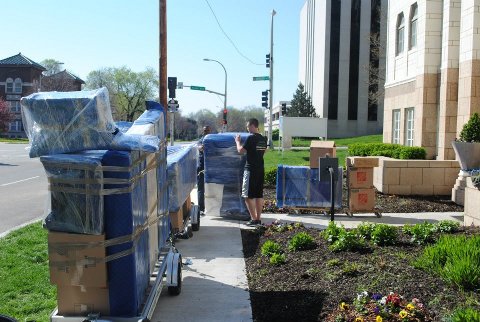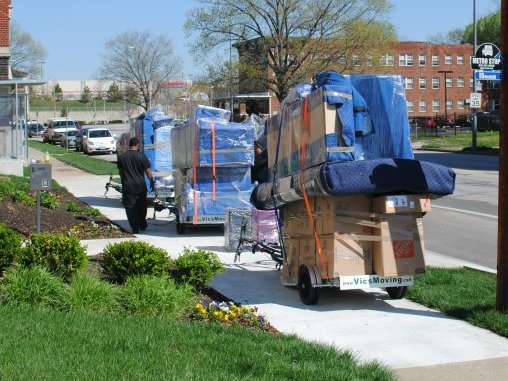 Of course, moving by bike isn't feasible for large households or long-distance moves. But, for people living in cities, who often are moving a short distance and have fewer belongings because living spaces are smaller, a household move by bike can be a less-expensive and more enviromentally-friendly alternative to moving by truck.
(all photos and videos supplied courtesy of the respective companies)
Categories: Customers, Cycling for Profit