Five Bicycle-Powered Composting Programs
2012-10-21
Using bikes to collect food waste in a composting program offers several benefits. First, it's a perfect closed-loop process. Bicyclists collect food waste, the waste is composted, the compost is used to grow food, and the food is used to feed the bicyclists. Second, it requires little capital outlay to get started, and the operating costs are almost nil--an important consideration for non-profit programs. Third, the people who collect the waste don't have to be of legal driving age, have a drivers license, or even know how to drive. This enlarges the pool of people who can participate, a key feature if the program is community-based and volunteer-driven. Finally, the novelty of the idea makes it easy to get publicity and consequently sign up participants.
Below are five organizations that use our bike trailers to collect food waste from homes and businesses or as part of a college composting program.
Pedal People Cooperative
Pedal People Cooperative is a worker-owned and operated cooperative in Northampton, Massachusetts. Their composting program is an additional service they provide for their garbage and recycling customers.
They originally composted the material they collected at various sites around their community, but maintaining multiple compost sites was difficult and labor-intensive. To simplify the process, they recently began hauling the food waste they collect to their local transfer station. From there, it is trucked and combined with the food waste from another community and composted at one site.
In 2011, they collected 2625 cubic feet of compostable material, enough to fill almost 4000 five-gallon buckets.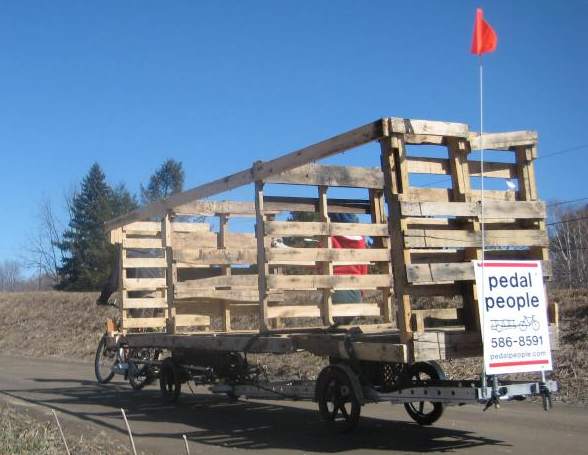 Revolution Compost
Revolution Compost is one of the services offered by One Revolution Vermont, a member-owned bicycle-powered delivery service in Burlington, Vermont. They collect from households and businesses on a weekly or bi-weekly basis and drop the materials at a local transfer center where it is sent to Green Mountain Compost for composting. They also offer finished compost from Green Mountain to their customers.
In the summer of 2012, the University of Vermont began a pilot project with Revolution Compost to collect food scraps from 30 offices on campus.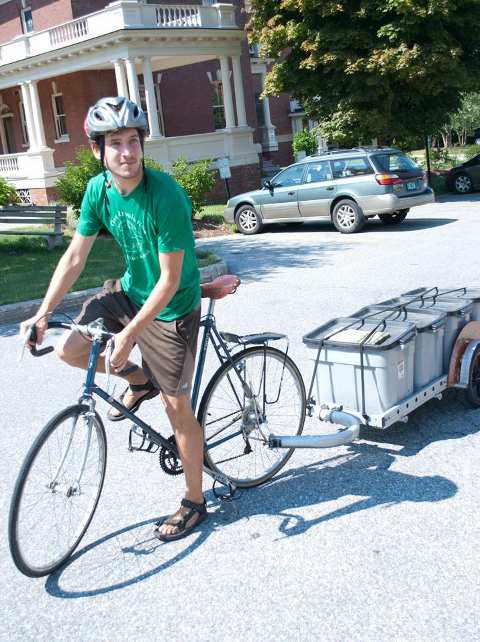 Compostadores
The Compostadores is the composting program of Gardening Matters, a Minneapolis, Minnesota-based nonprofit dedicated to promoting and preserving community gardens in the Twin Cities. The program was started in 2010. They collect materials from homes and businesses and compost it at the community gardens where it will be used.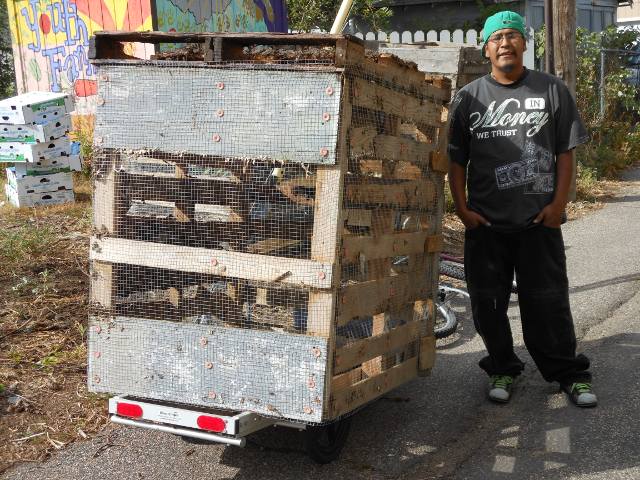 Compost Project / Rot Riders!
The Compost Project and Rot Riders! grew out of an environmental science class taught by Dr. Michael Kelrick at Truman State University in Kirksville, Missouri. He described the programs to me this way:
Together with several students, several years ago, we started a bike-powered home compostables pick-up service, called the Rot Riders. I also operate the Compost Project at Truman State University, which collects waste food at all food service venues at the university, both that food not eaten by patrons, as well as food discarded in the prep kitchens of our food service provider. We compost the materials at our University Farm, with almost no "technological" input (though I do use a tractor to move the accumulated food every couple of weeks, when the "piles" are built). The Rot Riders represents a separate yet aligned effort to reach out to the broader community where we live, as a symbol of activism, sane human-scale transportation and playfulness (though the amount of materials we pick up is serious business...we've destroyed the original trailers we built of completely recycled stuff, in the spirit of DIY...you'd laugh, I'm sure to see what we cobbled together!).

FYI, both the Compost Project and the Rot Riders are not "sponsored" by the university...in that they're NOT official student organizations. I started the Compost Project with a grant that I wrote with students, and the Rot Riders grew out of a course I taught, in which students invented environmentally oriented service learning projects, and then implemented them. We have about 40 students working on both efforts every school year, and we are handling between 20 and 30 tons of compostables during the 9-month academic year. We give the compost away to whomever asks for it.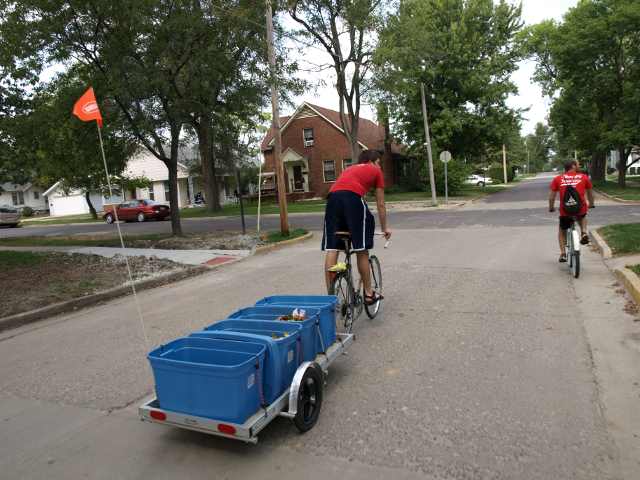 Skidmore College
As part of its sustainability initiatives, Skidmore College began a student-run composting program in the Spring of 2011 that collects food waste from campus apartment buildings. In the Fall of 2012, they converted the program to bicycle power. The material collected from the apartments is combined with the food waste from the dining halls and composted together as part of the College's composting program.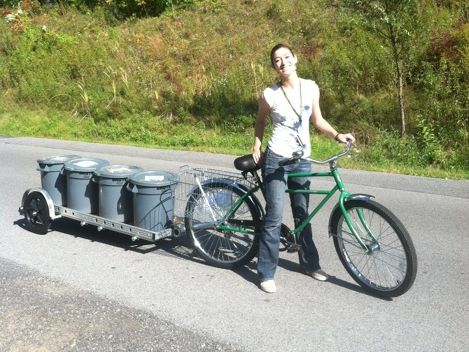 Categories: Customers