Big Ben Photo Service, London, UK
2014-02-25
Kenny in the UK sent us the following a while ago email:
Hello A few years ago I purchased a trailer from you guys. It was very fit for [the] purpose. ... I used the trailer to carry a phone box I created from fibre glass down opposite Big Ben.

Kenny's cargo trike and trailer he used to carry the phone booth

the trailer parked against a wall behind the phone booth

I used to take photos of tourists inside it with Big Ben in background etc. It worked. I made v v good money but haha they ban[ned] me from doing it [for not getting the proper permissions].

A few of Kenny's customers

Anyway, here are some photos of the trailer if you want to put one of the photos on your customers page.

cheers,

Kenny
We made Kenny an extra-wide version of our 96AW trailer to carry his phone booth. He added some wood crossmembers covered with foam to support the phone booth and prevent it from being scratched in transit.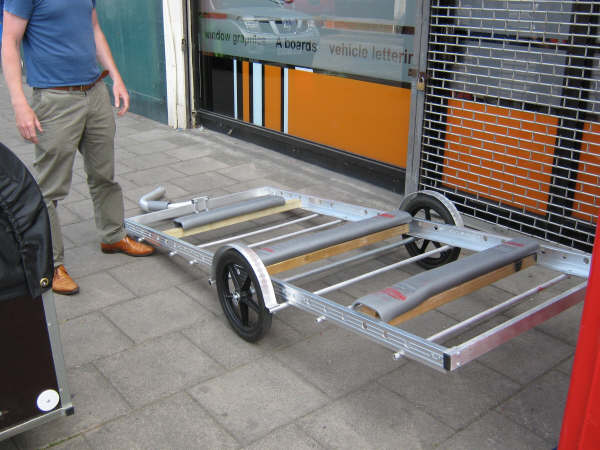 Too bad Kenny had to close his business. If you have plans to start a new business, check with your local authorities and get any necessary permits to avoid a similar fate.
Categories: Customers