The Smoke Wagon
2016-05-03
Andrew Edwards of Smoke Wagon Catering in Boulder, Colorado recently sent us a picture of the catering cart they built off of the 64A bicycle trailer we had shipped them a few months ago.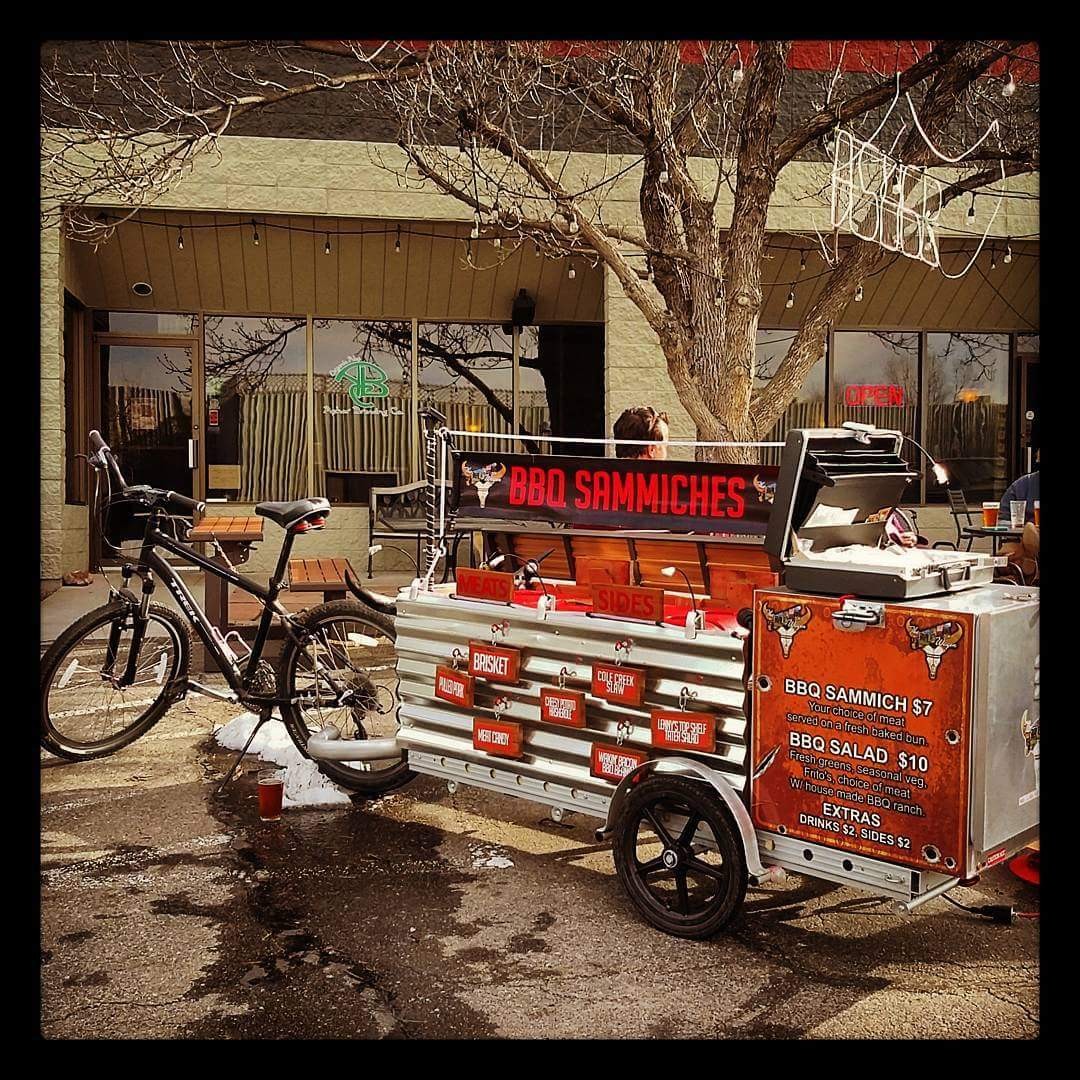 I was intrigued by their trailer and their business, so I asked him to explain what they do and how they built their trailer.
Here is what Andrew and his business parter Alan wrote:
Monday-Thursday I run lunch routes where I go door to door to small businesses (auto shops, small product showrooms, dispensaries, grow ops, bike shops, salons, etc.) and serve lunch to anyone who is hungry. I have developed solid routes where I sell out a majority of the time. They are mostly on the East side of Boulder, the area is made up of mostly businesses and very few food options, so people are very happy to have food brought to them. On Friday nights I set up at Asher Brewery (where I am in the original picture I sent). The regulars and staff there absolutely love our food, which is why they asked us to set up every Friday. Yesterday was an extremely dreary snowy/rainy day and we still had good sales, we're very excited for summer to roll around. We have been booked to serve at a cycling race next month and anticipate to have more events booked specifically with the bike trailer. In a few months, there are Thursday Night Cruiser Bike Rides that we will be pedaling in and serving hungry cyclists along the way.
The box on the back is a commercial hot box that we have powered by a large deep cycle battery that sits between the hot box and the cooler. The battery is a marine deep cycle battery. Click here to see the battery we use. It lasts us a little over 2 hours, which is just enough for a normal lunch service. When we are stationary (breweries, etc.) we can plug in with an extension cord. We will eventually upgrade our batteries to Gel filled deep cycles, which should add another hourish from a battery of the same size.
We carry our BBQ sammiches and hot sides in the hot box and our cold sides, salads, drinks, desserts and toppings in the cooler. We're able to get around 40 sammiches and enough sides to accompany them with this setup. It pulls surprisingly well when it's loaded down. People love the set up and we have had great success so far. We have plans to add another unit very soon, so y'all will bring hearing from us again soon!
A little about us. Andrew is our Head Chef/BBQ Pit master. Andrew learned to cook and smoke from his Dad and has been doing so since was a little kid. He owned and operated an award winning food truck in Fort Worth, TX for a little over 3 years. He does a large amount of our Kitchen work and also runs our other unit, a hot dog cart we converted to serve our BBQ, a few days a week. Because it is only Andrew and I currently, we aren't able to run this unit as often due to the amount of time BBQ takes to prepare and cook, but the bike trailer is able to move plenty of food to keep us profitable for now. I, Alan, am working as Andrew's sous chef and am the Sammich Pedaler. I am a passionate mountain biker, so this roll is perfect for me. We moved To Boulder from Arlington, TX together in December of 2014 and found jobs working for other people for about a year. After seeing how well the town is connected with bike paths, Andrew had the brilliant idea to sell food off a bike trailer. We hand built both units in our apartment, along with a bunch of help from an old metal worker who was very supportive of our idea and our drive to work for ourselves.
It would be great if you could specifically mention our Asher Brewery Friday nights in your blog, as we assume you have some Boulderites reading your blog. It would be great if you could also include our Facebook page, www.facebook.com/thesmokewagon, and our instagram account @thesmokewagon
We have been telling anyone who inquires about the trailer all about y'all and the great customer service y'all provide.
Once again Thanks for all y'alls help, Alan Henke and Andrew Edwards Smoke Wagon Catering LLC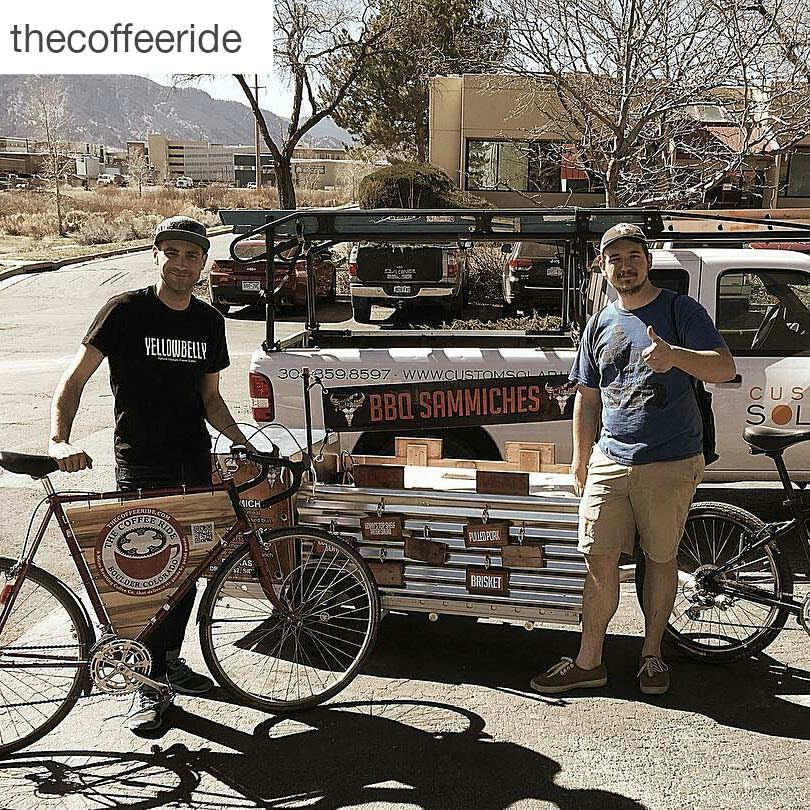 Thanks, Alan and Andrew, for sharing the information about your business, and for all the good work you do.
Categories: Customers, Cycling for Profit