The Book "Cycling for Profit"
2012-11-27
Back in 2000, I wrote a book entitled "Cycling for Profit" about how to start and operate a bicycle-based business.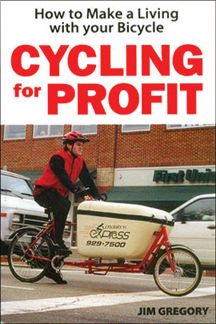 The book was a slim (128 page) paperback distillation of what I had learned operating a bicycle-powered delivery service for the previous 8 years. It described a variety of ways you could earn money riding a bicycle, how to select which one was best for you, and how to price your service and acquire customers. The latter half of the book when into detail on various bicycle business ideas. It also included profiles of several bicycle-based businesses that were operating at the time.
The book, according to its publisher, Rob Van der Plas, was never a big seller. I received minimal income from the book, since the retail price was only $14.95 and my royalties were based on the substantially-lower wholesale price.
So I was very surprised to receive the following email a few months ago:
Good day;

Ya'll do know I'm sure, that this book [Cycling for Profit] is going for $55 on Amazon.

Do you have any intention of making this available again?
The now out-of-print book was selling for $55 on Amazon.com, more than 3X its original price.
Even more surprising is that the book is currently listed there for $244.46:

Even used copies are selling for at least 1.3X the original price.
Given the price, do I have any plans to republish the book? Probably not.
Parts of the book are badly in need of a rewrite. Most of the people profiled in the book have probably moved on to other endeavors by now, so I'd need to include new examples. Some technologies that would be useful now for gaining customers (e.g., Facebook, Twitter) didn't exist at that time and would need to be included. One or two of the business ideas described in the book which were successful when I wrote it (e.g., paper airline ticket delivery) are simply not viable any more and need to be removed.
I simply don't have the time to update the book for the amount of value I would receive back from it. I think this blog is far more valuable and can provide more people with more valuable, up-to-date information. I suggest following the "Cycling for Profit" section of this blog if you are interested in operating a bicycle-based business. I'll be posting content here regularly about what our customers do and what has worked for them.
The book is still useful, however, if you would to operate your own bicycle-based business. All the basic principles described in the book on selecting a business, pricing, and finding customers still apply. If you plan to start a bicycle-based business, a used copy of the book is worth the investment. You might also be able to obtain a copy through your local public library, using their interlibrary loan program if necessary.
Categories: Cycling for Profit