Review of a 96AW Bikes At Work Bike Trailer
2020-09-10
Caroline Cox from the non-profit organization
EcoSuperior Environmental Programs
in Thunder Bay, Ontario, Canada recently sent us this message:
We had been in touch in 2018 when I ordered a bike trailer. At the time, you encouraged me to send photos your way when the trailer was in use. The bike trailer has been used quite a bit this summer, and David Nicholson, one of our cycling instructors, put together the attached review and the video at this link https://youtu.be/EdI1TV9QKiM. Feel free to use/share the materials! Our long-term plan is to use the trailers to transport loaner equipment to our school Bike Rodeo program, but we haven't used the trailer for that purpose yet.
I have included Dave's review below, converted from the original PDF document:
Bicycle cargo trailer review for Safe Cycling Thunder Bay
By Dave Nicholson (July 2020)
INTRODUCTION
Have you ever considered moving all your worldly belongings to a new home by bicycle? I did this past spring, but I needed a trailer.
An eight foot long bicycle cargo trailer had been recently bought by Safe Cycling and they wanted an instructor to give it a test run. I am a cycling instructor with Safe Cycling and was going to be moving to a new home in the near future and thought could I do it by bike? I asked program coordinator Caroline Cox if I could borrow the trailer to give it a real-life test run, she said yes, and the rest is history.
I was only moving five kilometres to my new place over relatively flat roads, no big hills, and bike lanes the whole way, so each round trip was ten kilometres. The main route I used was north on Leslie Ave., west along the active living corridor on Arundel St. and south on Shuniah St. I did 20 loads plus some extra kilometres for other items that were off my main route. I hauled the trailer a total distance of 204.7 kilometres between June 15th and 29th. It only rained on my last day, thank goodness. I was very pleased to have many sunny days in June, as I was planning to only do loads on sunny days.
What kind of loads did I move with the trailer? Since I rent I did not have to move any large appliances. I did have a computer and monitor, separate audio/video components, small mini-fridge, patio chairs and table, four pine bookshelves, boxes of vinyl LP records, books, a dresser, small kitchen table and chairs, bins of tools and many other smaller household and personal items. I used some boxes but used a few large 68 litre plastic bins, emptied them at the new place and brought them back to be re-loaded to minimize the number of boxes I needed. The load with the vinyl records and books was about 200 pounds. It was slow but I used low gears on the bike. Most of the loads I kept to around 110-150 pounds and they were manageable without dropping into the lowest gear. With heavier loads it initially feels very hard to get moving, but once momentum kicks in the challenge then becomes stopping. Checking the brakes before I rolled out was always a priority.

The hitch mount on the bike is very simple and hand tightens. These should be checked for tightness periodically if using the trailer over a few days. It is very solid when hauling a load.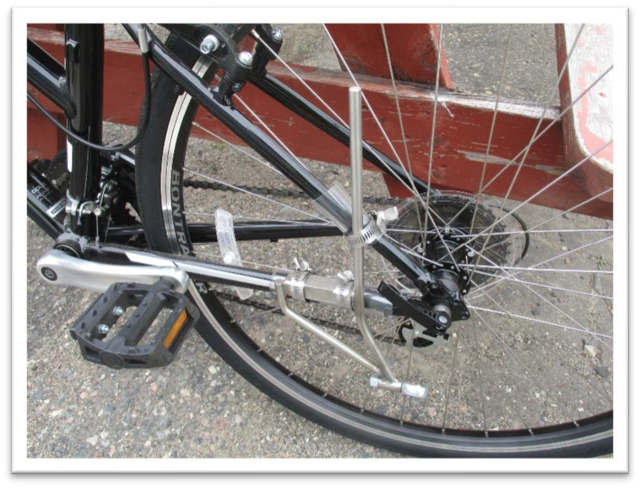 Due to the placement of the hitch mount on the bike in this example, the quick release latch aligns with the trailer hitch pin slot, so I had to push in the trailer hitch pin from the bottom instead of from the top. It is a very firm latch and I did not have any issues doing it this way. (Editor's note: You can insert the hitch pin from the top if you lean the bike slightly to the right with your free hand while inserting the hitch pin with the other hand.)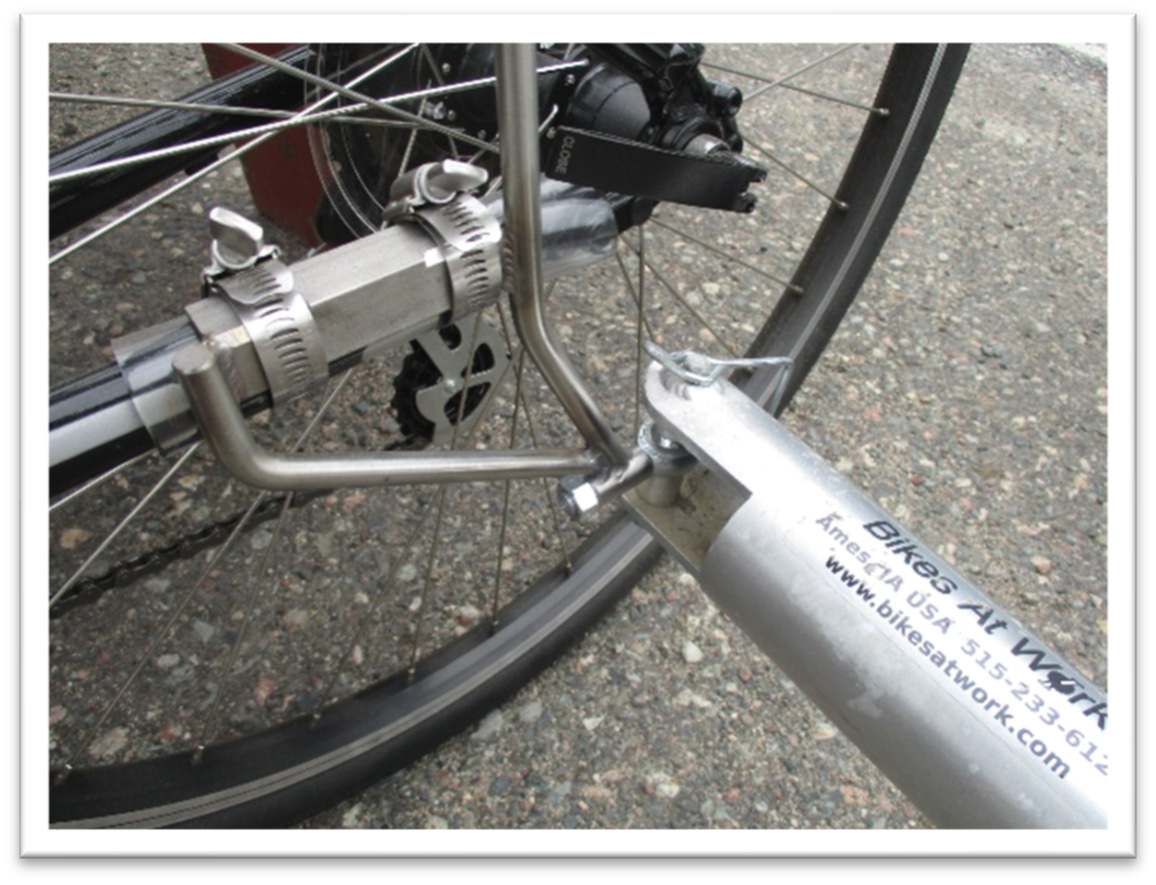 You can choose to connect the trailer to the bike when it is empty or with a load on, it didn't seem to make a difference as I did it both ways. It is easier to have another person hold the bike while attaching the trailer so the bike does not fall over. Once you connect the hitch you can lay the bike down on the left side, and then load it, another unique design element of this trailer. The fenders are strong enough to support oversized loads.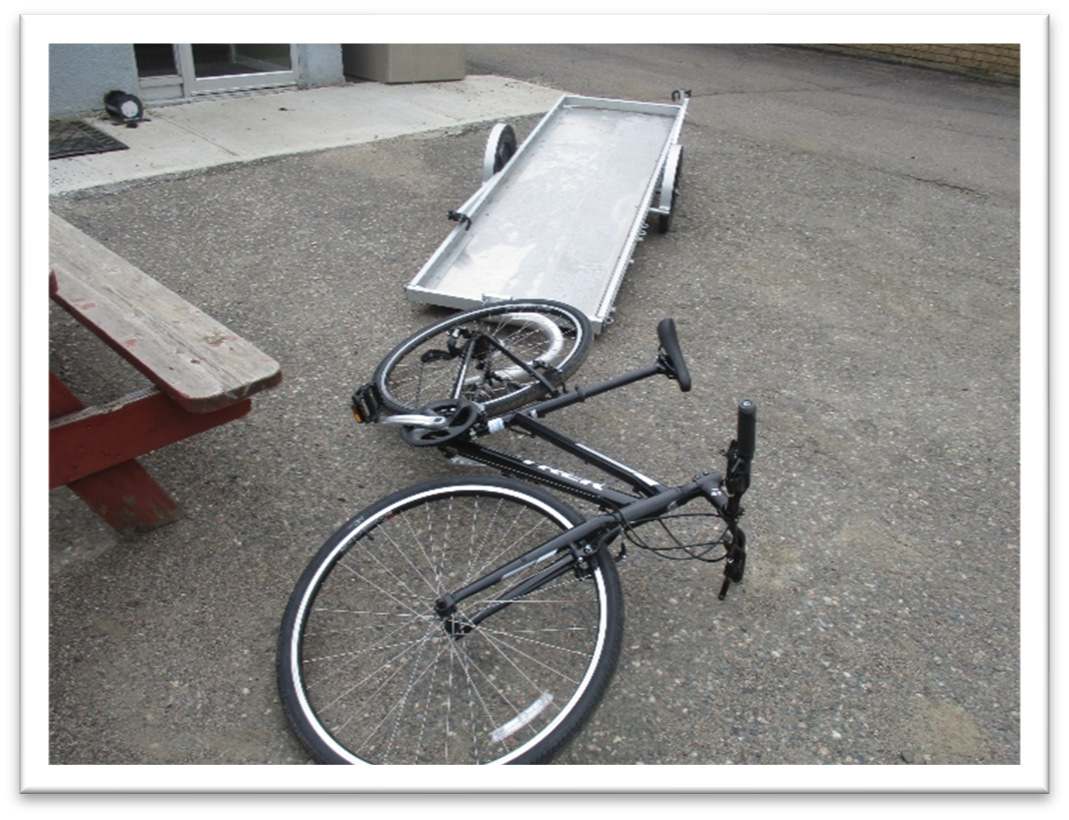 It has plenty of places to attach the bungee cords or ratchet straps. A bag of heavy duty bungee cords came with the trailer but I preferred to also use some of my own ratchet straps as they hold a load tight on a trailer. I also see a lot of bungee cords in the curb lanes when I am biking around the city so I know they do come off loads.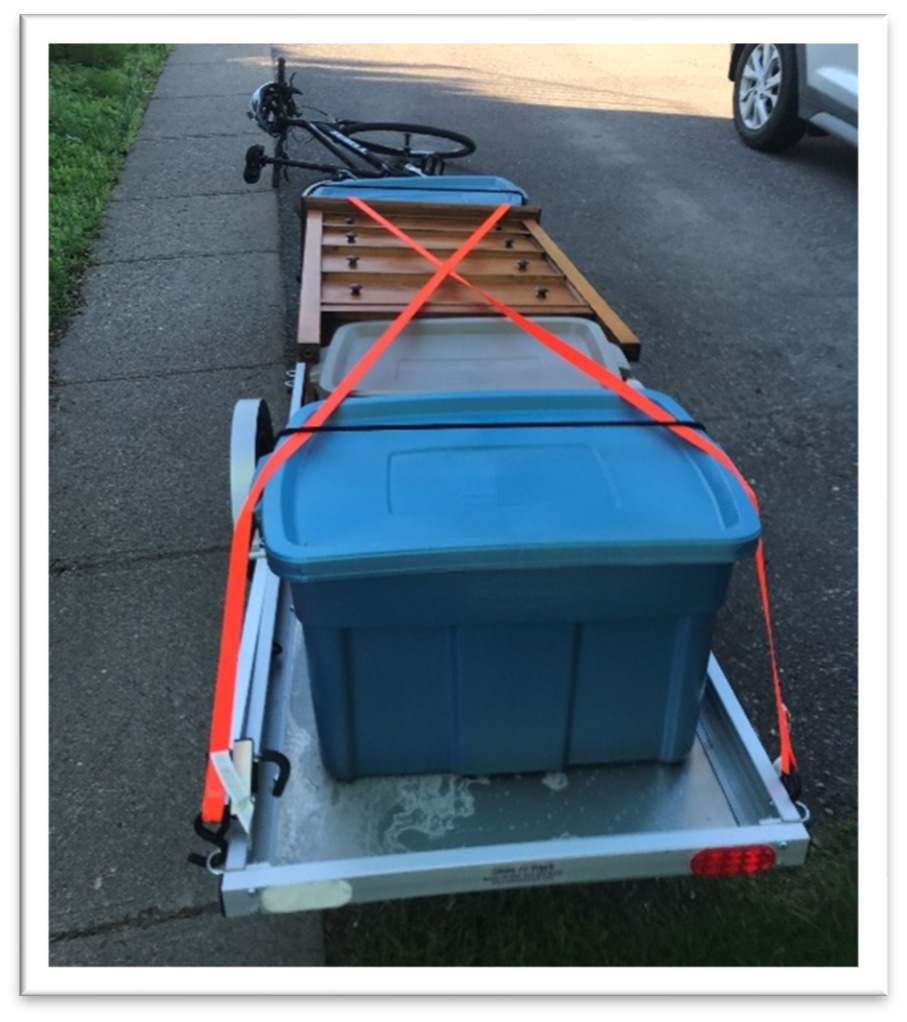 The design of the trailer is very functional, the aluminum trailer is 50 pounds so add on the weight of two bicycles and a few plastic bins of pumps and tools it is very easy to pull. It is relatively light for pulling behind a bike and for moving around on the wheels to prepare for loading. The load capacity is 300 pounds but I pulled one load that was about 200 pounds on a relatively flat road and that was heavy! I kept most of the loads around 110-150 pounds and I managed easily. Slow, but good. I was in gears 2-2 on most of the inclines and was able to go up to 2-7 going south on Shuniah St.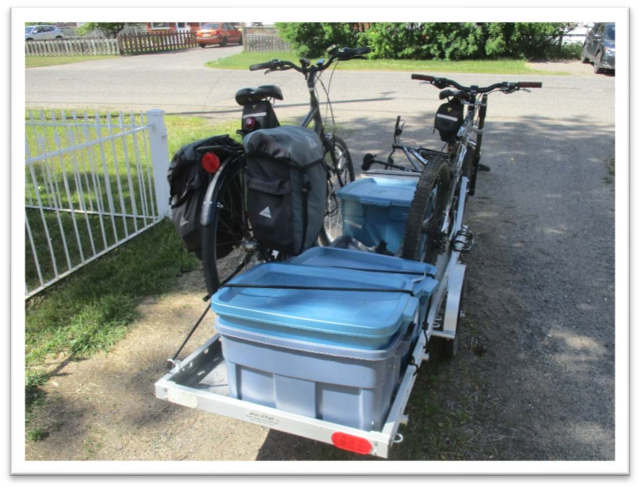 A positive and negative issue about the trailer is its length. On the positive side it can carry two adult size bikes using the bike mount bars plus many plastic bins of gear. On the negative side it is eight feet long, with the hitch tongue the full length is around nine feet, so it is a bit of a challenge to wheel around in a location with many obstacles. Luckily, I had a ten foot shed to store it in.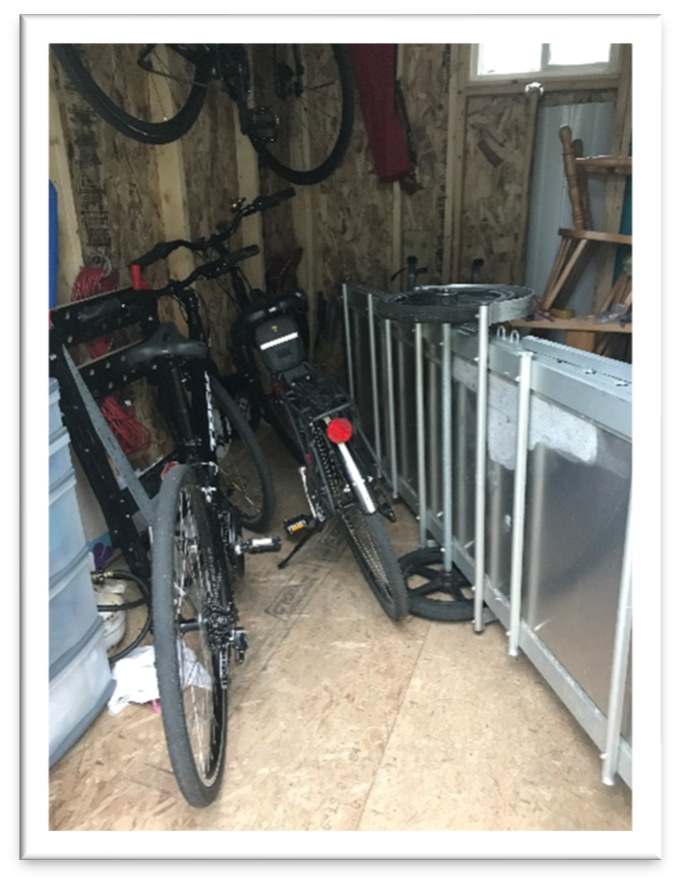 TIPS
Turning left when you are moving the trailer around before riding is better as you can turn tighter, but due to its curve, the hitch tongue might hit the back of your leg. When turning a tight right turn the back wheel might rub on the hitch tongue.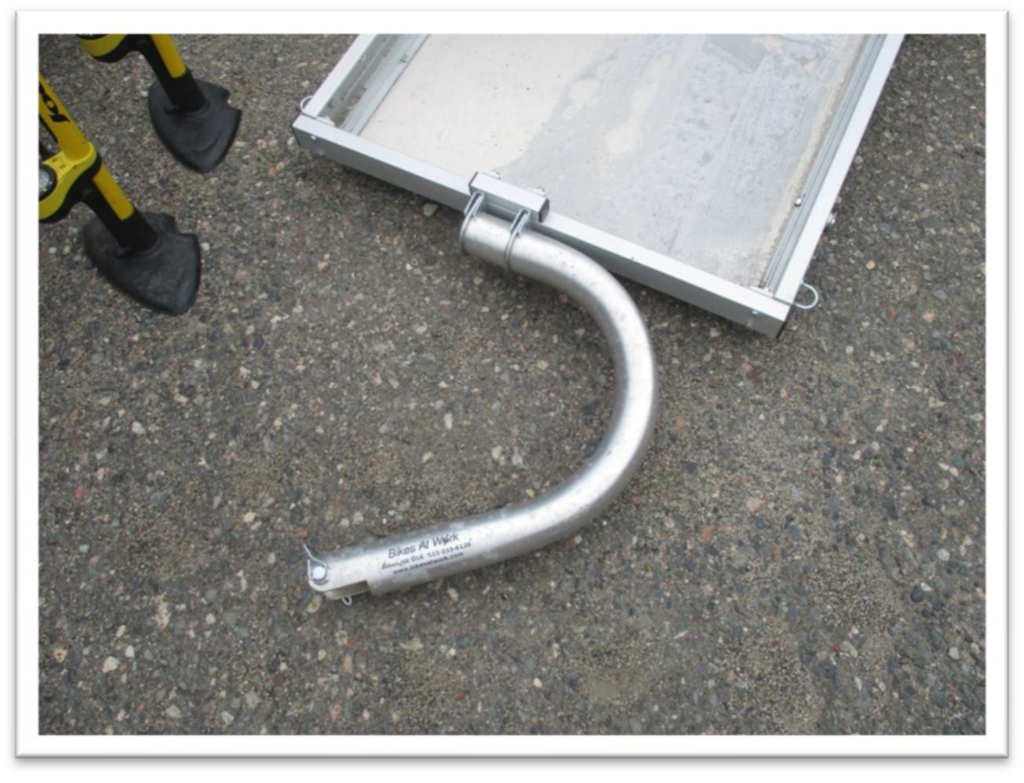 A variety of locks can be used on the trailer but a U-Lock through the spokes of the wheel and through the holes on the trailer frame is very efficient.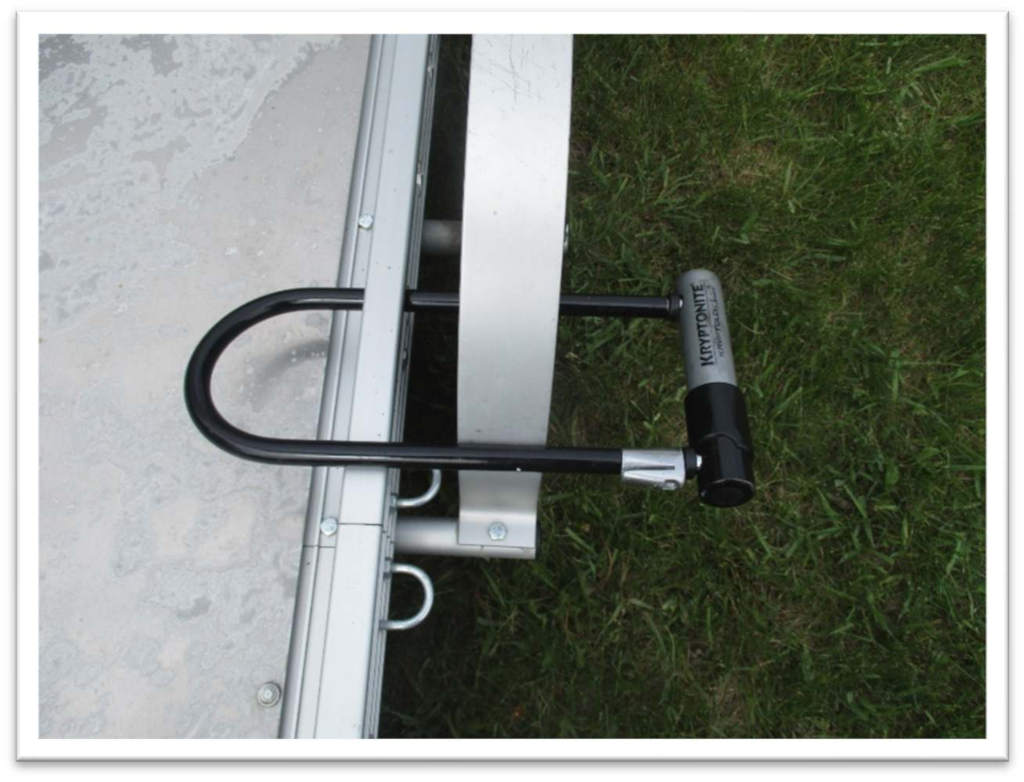 CONCLUSION
The trailer will work very well for the Safe Cycling application of hauling bikes and plastic bins of tools and gear. I was very pleased with the simplicity of the hitch connection. It is a versatile trailer. If you have to do many loads keep them lighter and do more easy loads so you don't tire yourself out on a few heavy loads.
Ride on, ride safe.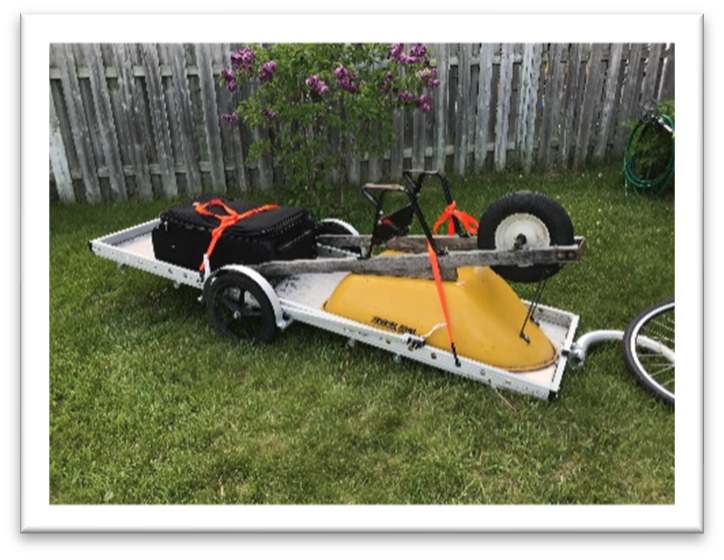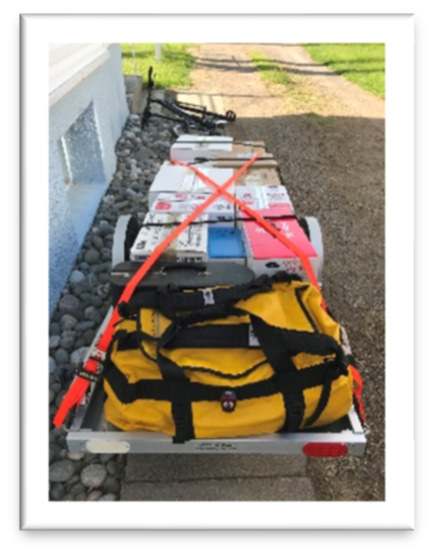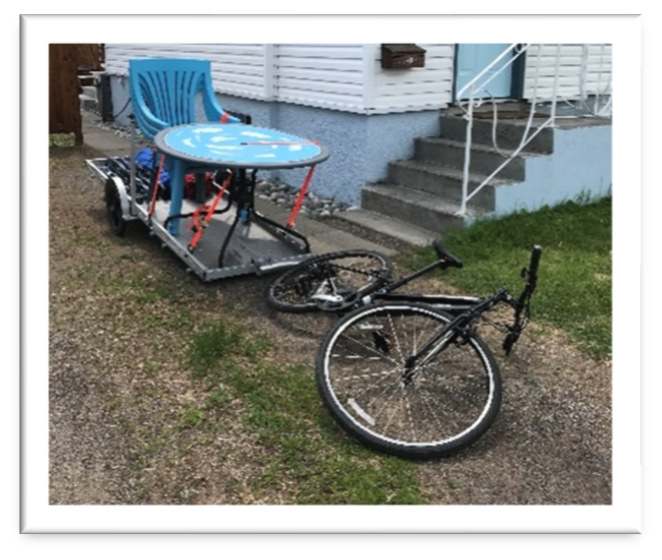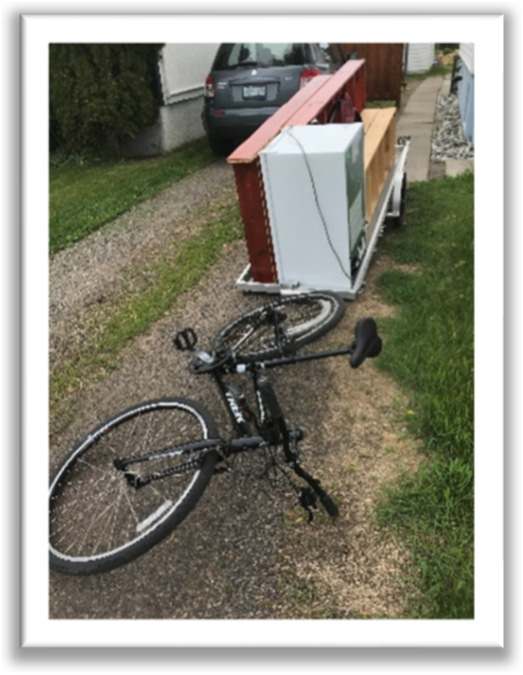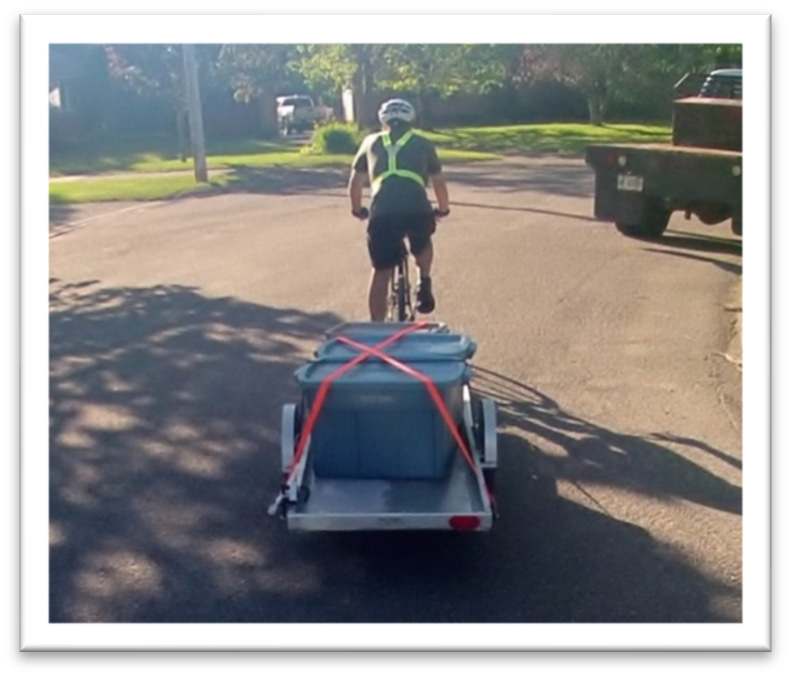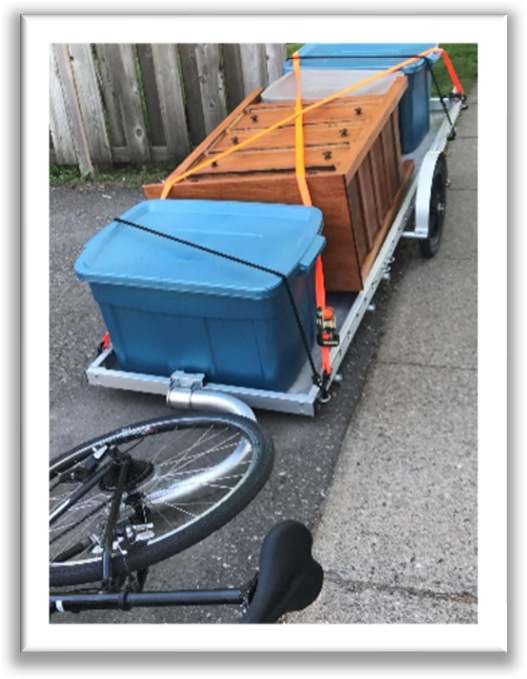 Thanks, Dave and Caroline, for the review!
Categories: Customers