Our Pedal-Powered Office
2013-01-26 (updated 2016-08-31)
This post describes version 1 of our pedal-powered office. To see the one we are currently using, click here.
For several years, I had a part-time job delivering newspapers in the early morning hours using my bicycle. I liked the job because I got paid to do useful work that was also a great form of exercise. Eventually I had to give it up due to the demands of our business, which left me seeking some other way to incorporate useful exercise into my daily work routine.
I usually spend a few hours a day working at my desk, but using a treadmill or an exercise bike while at work didn't appeal to me. These devices, at best, just burned off calories. I wanted the output of my activity to do something useful, like my old job did.
So I decided to build a pedal-powered office.
The idea wasn't entirely new, as several people have demonstrated how you can power a laptop computer or even a rock concert using pedal power. But all the designs I had seen didn't seem appropriate for an office environment. I wanted something that:
looked reasonably nice,
would be easy for most people to use,
recorded my power output, and
monitored how much energy was consumed by each device connected to it.
After several iterations, I came up with this: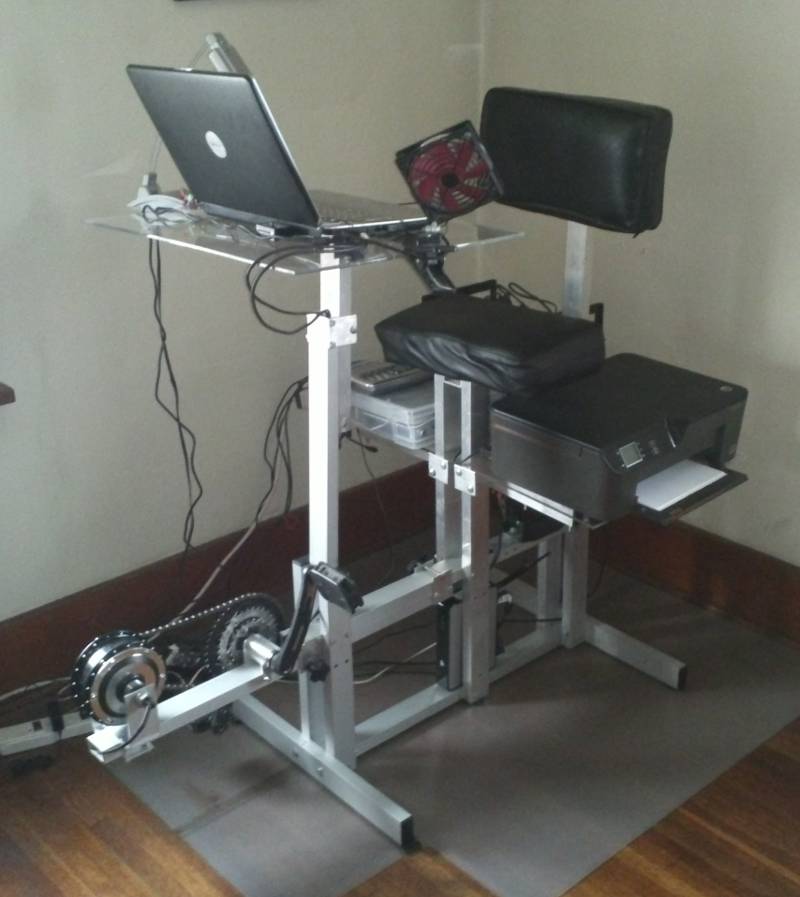 How It Works
In our pedal-powered office, the user sits on a cushioned seat in a semi-recumbent position behind an adjustable desk mounted to the base of the machine. Beneath the seat are two shelves, one on each side. On the left shelf is a 3-in-1 multifunction inkjet printer. On the right shelf is the power box (more on that later), three trays of different types of paper stock for the printer, and a AA/AAA battery charger. Everything is within reach so you don't have to stop pedaling while doing common office tasks like printing documents.
The system is powered by a 200 W electric bicycle motor/generator which is driven by a standard bicycle crankset. The whole assembly can be moved forward or backward to adjust for leg length.
The generator is wired to the powerbox which contains the system's electronics, a 12 V battery, a LCD display, and four 12 V power sockets. The 12 V battery acts as a buffer between the output of the generator and the fluctuating load of the devices plugged into the sockets. The LCD displays the power output of the generator, the power consumed by the devices connected to each of the four 12 V sockets, the state of the battery, and the time elapsed since starting.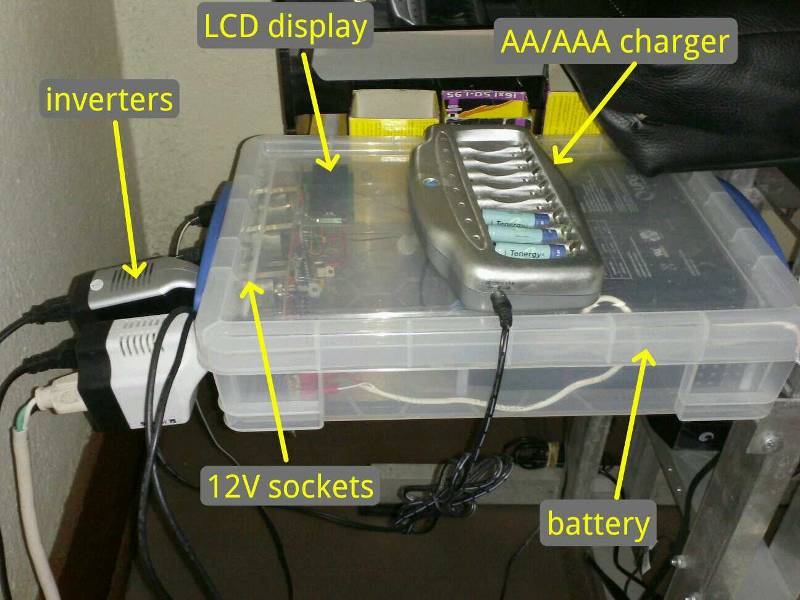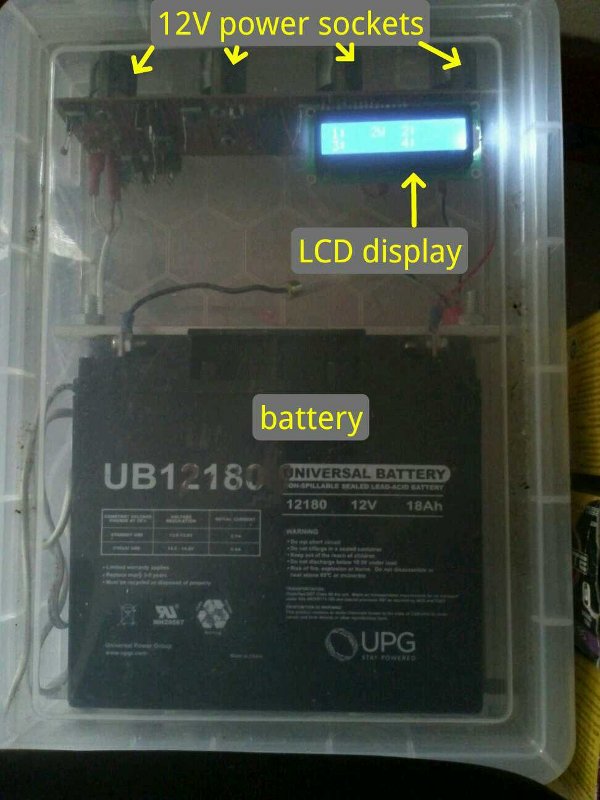 Since the powerbox outlets are standard 12 V automotive power sockets, any devices built to be used inside a car (like the AA/AAA battery charger I use) can be plugged directly into one of the 12 V sockets. Devices that run on standard household AC current can be run off of one or more automobile AC inverters inserted into the sockets. USB-powered devices like mobile phones can be powered via a 12 V-to-USB converter plugged into a socket. (Many AC inverters also have one or two USB power jacks built in.)
How to Use It
To start it up, you simply sit in the seat and start pedaling. That will wake the system from sleep mode; turn on the LCD display; and connect the generator, battery, and 12 V sockets together. You can then start your computer and go to work. As you are working, you can view your power output and how much power your devices are consuming in a web page on your web browser: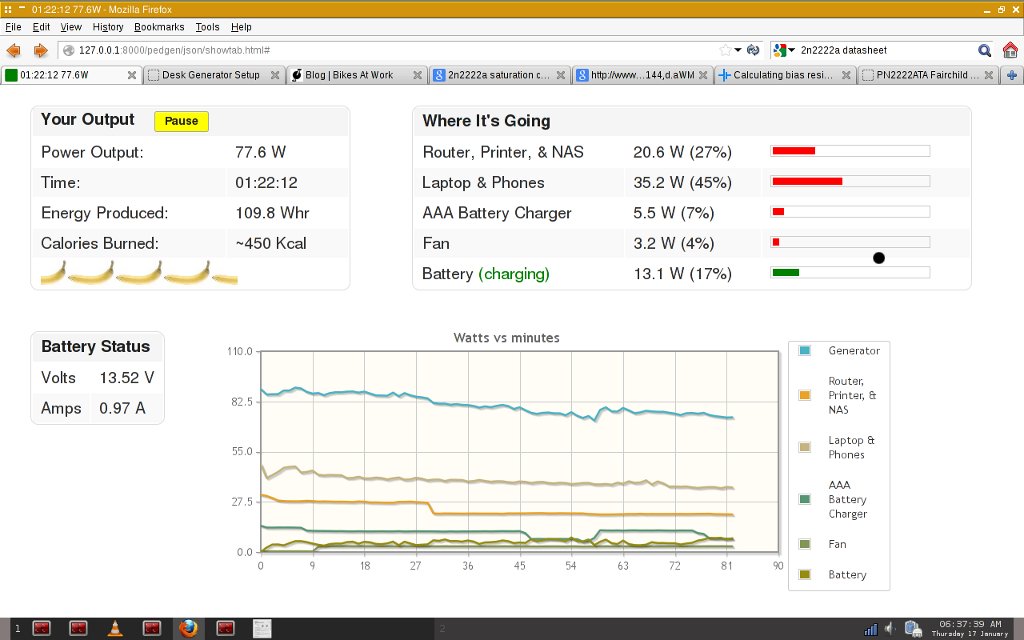 The web page dashboard is updated every second. The power output is posted to a database on the internet at one-minute intervals in case you want to share the information with others via the web. The software is written to be cross-platform (Windows, OSX, and Linux) and should work on most browsers (although I haven't verified this yet).
If you are engrossed in your work and start pedaling too slowly, a popup window is displayed alerting you to pedal faster: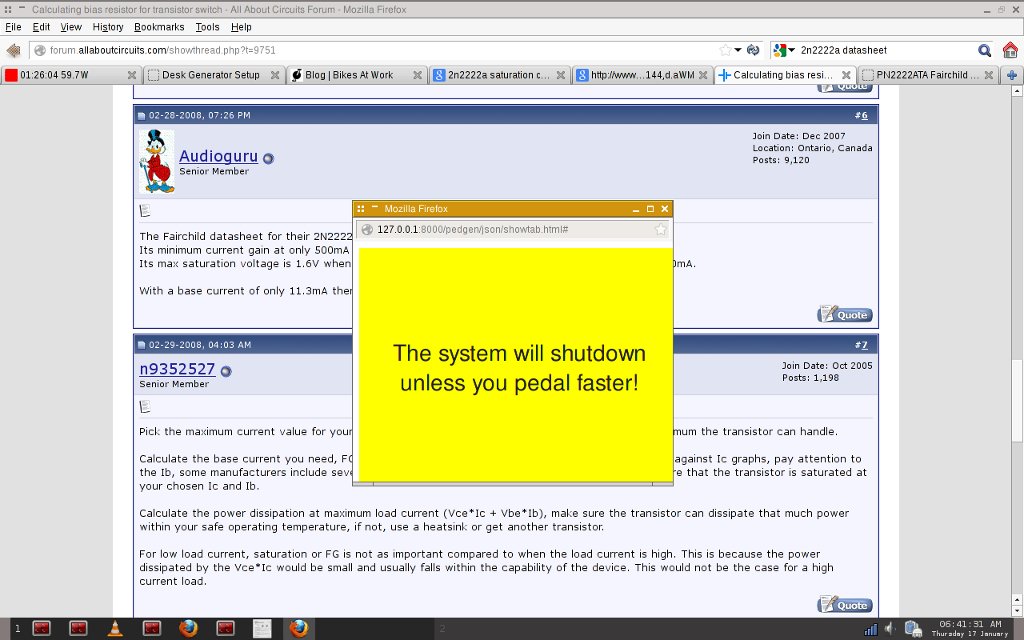 When you stop pedaling (or don't pedal fast enough), the system will wait a short period of time, then disconnect the battery from the generator and connected devices and return to sleep mode to preserve the charge in the battery. The time delay allows you to take a quick break (e.g., to clear a paper jam in the printer or go to the restroom) without shutting off important network devices that you may be powering, like your network router.
How Much Power Can it Produce?
The system is designed to produce up to 100 W of power. This is not enough to power a traditional desktop computer or laser printer, but it is sufficient to power all the equipment in an energy-efficient office. When I am at work, the system powers a laptop and inkjet printer, our DSL modem/router, the network attached storage drive, and a small cooling fan. It also charges our two mobile phones and up to eight AA/AAA batteries using an 8-bay battery charger.
Is This Idea Practical?
Whether this would work for you depends on your physical abilities and how accustomed you are to pedaling. For what it's worth, I am a healthy 48-year-old male who has ridden a bicycle as a primary means of transportation for most of my adult life.
I have powered my office entirely using pedal power since the beginning of 2010. I use our "pedal office" to make CAD drawings, write code, communicate with our customers, print invoices and shipping labels, and develop and maintain our web site.
I can continually produce up to about 60 W without having to think about it. Continuous power output above 60 W takes more concentration and lowers my productivity.
I can comfortably maintain a power output of 40-50 W over a three-hour period and up to about 55-60 W over 1.5 hours before beginning to feel fatigued. I can comfortably produce around 200 Whr at our desk (about 3 or 4 hours of riding) every day before my legs become too fatigued to adequately recover.
If you are a fit, experienced cyclist, I believe you would not have any difficulty using a pedal-powered office like this. If you are not, you would probably produce less usuable power and have more difficulty trying to pedal and concentrate on work at the same time. But, your power output and ability to concentrate would both likely improve with time.
Some Additional Benefits
The system is powered entirely by renewable energy and requires neither sun nor wind to operate. No external wiring is necessary, so it can be used anywhere inside.
Power outages do not disrupt your workflow. (Twice over the past three years we lost power from our local electrical utility while I was working at our desk and I did not notice.)
I find cycling at the desk leaves me feeling more alert and warms me when I'm feeling cold. It's a useful "pick-me-up" when I'm feeling sluggish.
Conclusion
A pedal-powered office is probably not for everyone, but it is a feasible option for those with the necessary athletic ability and a workspace with a low-energy footprint. I have found it a great way to go "green", keep fit, and stay productive.
Categories: News