Mylene Dault Landscape Design
2013-05-03
Mylène Dault recently sent us some photos of the Bikes At Work 96AW bicycle trailer used in her landscape design and service business, Mylène Dault Landscape Design in Gatineau, Québec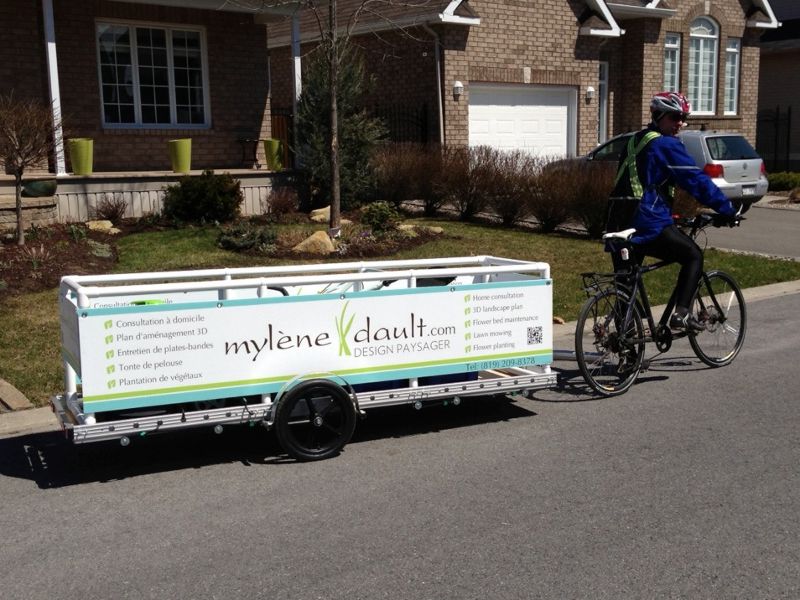 She writes:
Our mission is to provide residents of Gatineau and surroundings an outdoor space designed according to the concepts of design where they can share good times with family and friends while being mindful and respectful of the environment.

We offer consulting services in landscape design and build custom 3D landscape plans. We also offer flower bed maintenance services as well as lawn moving. The Bikes At Work trailer is used to transport our lawn mowers and maintenance equipment.

Our transportation is done by bike (the majority of the time) or hybrid car (only if necessary!). We have made biking part of our lifestyle!

To each his own space! is our tagline. It means that we all need a space where we can fully enjoy life .... our own haven, our oasis just for us! Mylène Dault, landscape design gives you the opportunity to design this space!

Mylène and Etienne (The Mylène Dault, Landscape Design team)
Mylène constructed a framework made of PVC tubing on her trailer to mount signage to promote her business. This is different from the approach we usually recommend, but her method is equally effective.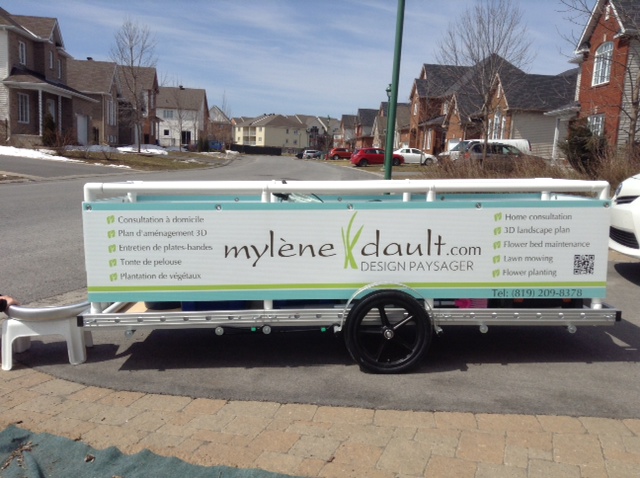 Thanks, Mylène, for sending the pictures!
Categories: Customers, Cycling for Profit