Maintaining a Complete Streets program using a bike trailer
2018-10-07
One of the most important parts of a Complete Streets program are roadway markings like crosswalks, bike lane icons, and sharrow markers. Painting these markers takes a significant amount of equipment--large stencils, traffic cones, brushes, buckets of paint, etc.
Most cities transport this equipment using a motor vehicle, like a pickup truck. But GO Bike Buffalo, an advocacy group in Buffalo, NY, does it differently. They carry their equipment using a bike trailer, specifically one of our 96A bike trailers.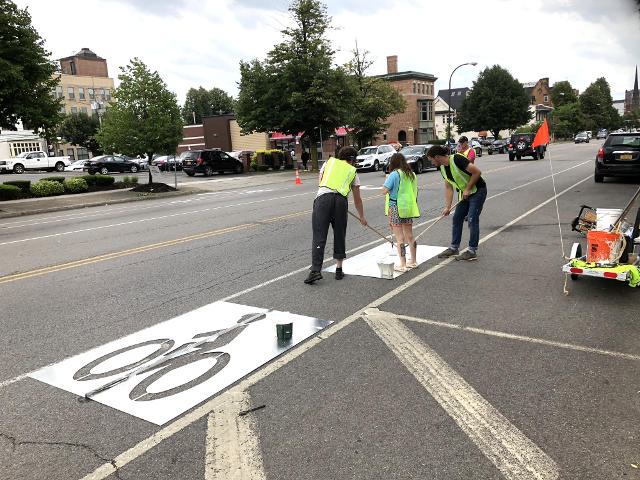 GO Bike Buffalo partners with Buffalo's Department of Public Works to maintain the city's bicycle and pedestrian street markers. The work is spearheaded by Rebecca Reilly, GO Bike's Tactical Transportation & Volunteer Coordinator.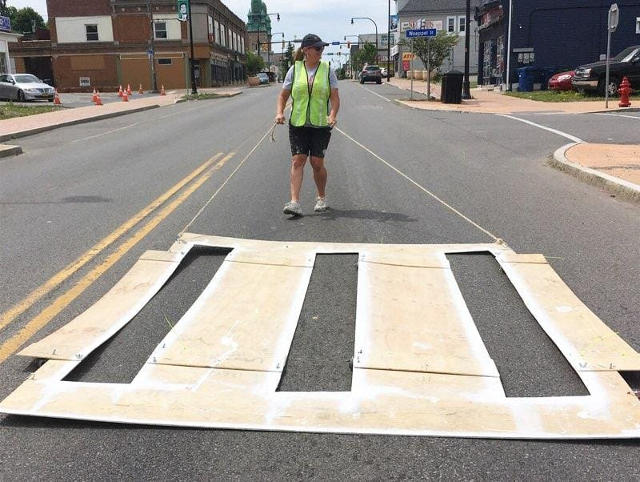 She and her volunteers have been remarkably productive. She noted in a recent issue of Buffalo Rising:
"The GOBike Tactical Refresh program has had an amazing summer [in 2018] in spite of all the rain. We've completed 63 crosswalks, 4 bumpouts, 159 bikons (bike lane icons), 62 sharrows, and 4 major corridors..."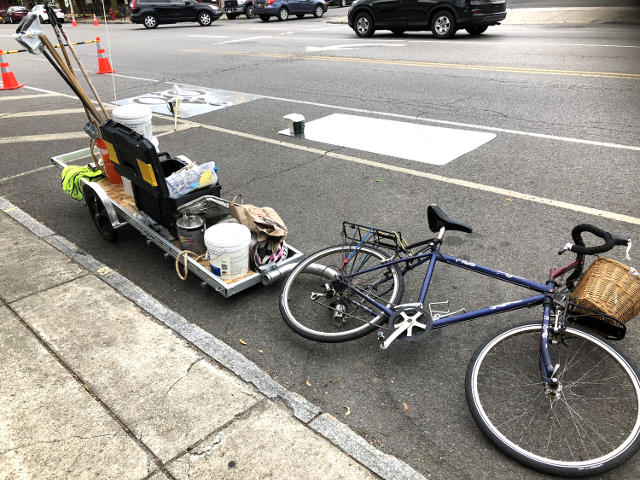 She noted some of the benefits of maintaining bicycle and pedestrian markings using a bike trailer (besides the obvious social and environmental ones):
"[I]t makes it very efficient because I can do the work right in the bike lane without obstructing traffic, or in the case of doing sharrows, I don't obstruct traffic much at all. It's also easier loading and unloading gear. Potentially, we think it might be a great way to take some of this type of maintenance work of the shoulders of The City."
Rebecca sent us the following video that she took for her Facebook page live stream, which I've uploaded to YouTube:
Thanks to Rebecca for bringing their program to our attention!
Categories: Customers