How to Double Your Bicycle Trailer's Cargo Capacity
2012-11-28
There are ocassions when you need more cargo capacity than even a large bicycle trailer can provide. To solve that problem, we make a rear trailer hitch that allows you to connect two Bikes At Work bicycle trailers together end-to-end and pull them with one bicycle.

Our rear trailer hitch clamps onto the rear crossmember of any A, AD, AW, or AWD-series Bikes At Work bicycle trailer, allowing you to connect two trailers end-to-end and pull them both using one bike. It is a useful accessory to have when you use more than one trailer and want the flexibility to put them both to use when you need the capacity.
Connecting a second trailer is quicker than extending the length of a trailer using our extension kit. It also allows you to haul twice as much weight than you could with an extended trailer, and usually gives you much more volumetric capacity.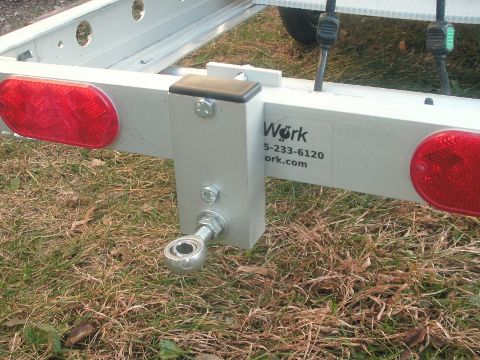 Attaching the hitch is easy--just mount it on the crossmember and tighten the clamp bolts. You can leave it on permanently once it is mounted, as it won't interfere with most loads you will carry.
Guidelines for Pulling Double Trailers
Here are some things to remember when pulling two trailers with one bicycle:
To maximize traction, shift the load on the first trailer more toward the front of the trailer than your normally would to compensate for the additional tongue weight of the second trailer on the rear of the first one.
Use more care when riding in areas with obstructions. Remember you now have two trailers that have to clear any obstructions instead of only one.
Avoid sharp left turns. The towbar arm on the second trailer can strike the rear crossmember on the first trailer on sharp left turns. To prevent this, make U-turns in a clockwise direction instead of counter-clockwise. (If you regularly pull two trailers at once, you can mount the rear trailer towbar vertically "gooseneck-style" and use our vertical hitch adapter to connect the two trailers together--see below.)


towbar mounted "gooseneck-style" with vertical hitch adapter allows rear trailer to turn sharply left and right

Backing up is slightly more difficult but not impossible. Try to keep both trailers in a straight line and make gradual corrections rather than big ones. It takes practice, but its easy to master after you have done it enough times.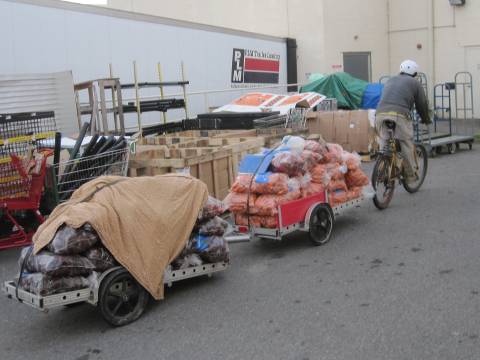 Is it Legal?
We are often asked if it is legal to pull multiple trailers with a bicycle. In my 20+ years experience of building and using cargo bicycle trailers, I have not heard of any state or locality in the United States that prohibits it. The only place in the world where I've been told it is prohibited is in Switzerland.
Pulling multiple trailers is the best way to increase the cargo capacity of the bike. It avoids the deadweight of an extra-large trailer when you mostly carry smaller loads with your bike. It keeps your trailer narrower and lower to minimize wind resistance.
Categories: Cargo Biking, Tips and Techniques