Grocery Shopping By Bicycle with a Bikes at Work Trailer
2013-02-19
Our company began over twenty years ago as a bicycle-powered grocery delivery service. We recently did a grocery delivery for a long-time customer of ours that highlighted some of the advantages of using one of our bicycle trailers for food shopping.
This particular customer of ours only orders groceries a few times a year, so each order tends to be quite large.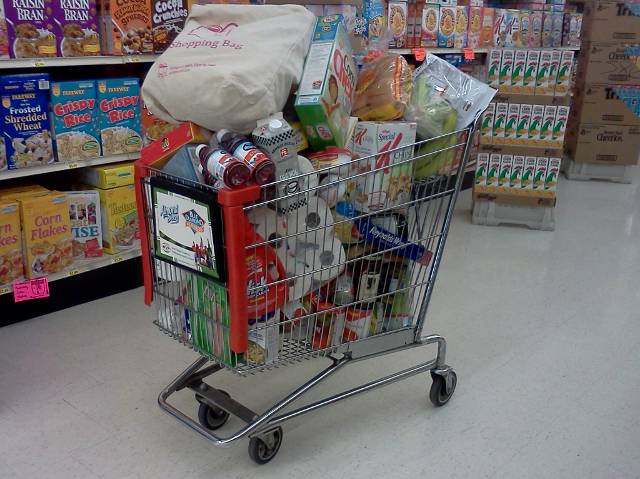 The first feature that makes our trailers so well-adapted for grocery shopping becomes apparent when you start to load the trailer. Our standard-width trailer models are designed to carry 18 gallon / 68 L plastic storage bins, which are an ideal size for carrying groceries. Two full grocery bags fit perfectly inside, which keeps them from falling over and spilling their contents while in transit.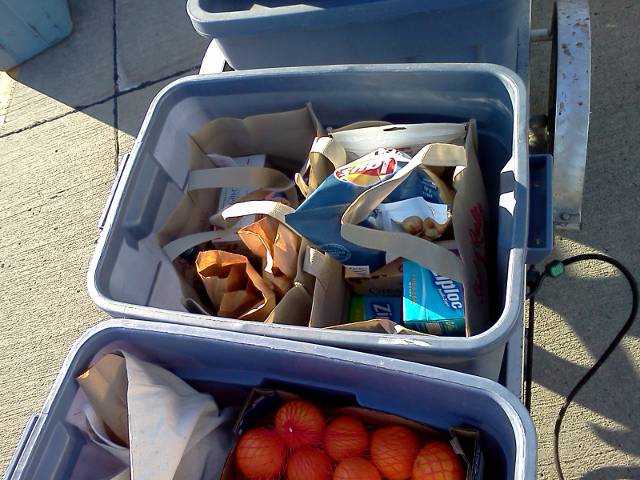 (Note that you don't even need to use bags to carry groceries if you don't want to. On personal food shopping trips, we usually just load our groceries directly into bins from the checkout stand.)
Another feature is that these containers are stackable. This makes it possible to carry a large quantity of groceries on a single trailer. If you need more cargo space, just stack more bins on top and tie them down with bungee cords.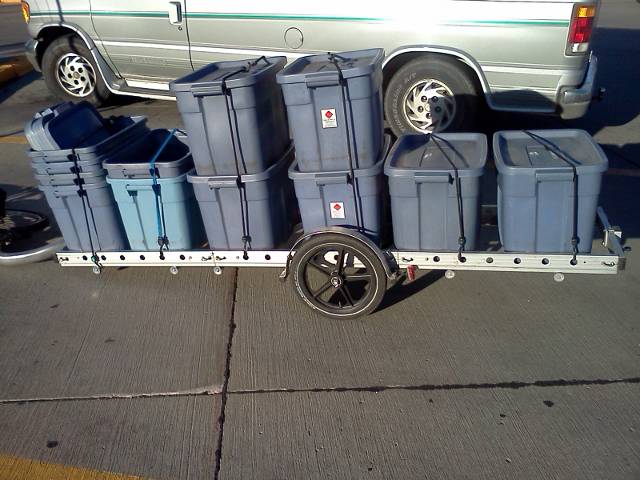 Riding on the road reveals a third advantage using these containers--they are waterproof. Rain, snow, or road spray doesn't effect their contents. The groceries inside stay dry regardless of the weather.
The final benefit of using our trailers for grocery shopping is that unloading is quick and easy because the containers aren't permanently fastened to the trailer frame. You can lift them out and carry the bins with the groceries inside, as opposed to having to pull out and carry individual bags.
A full bin of groceries can weigh 30-50 lbs / 14-23 kg, depending on what's inside, which is a manageable amount to move by hand. Carrying bins instead of bags is not only faster when you have a lot of groceries to unload (see photo below carrying four bags of groceries at once), but it again keeps your groceries dry when you have to carry them inside on a rainy or snowy day.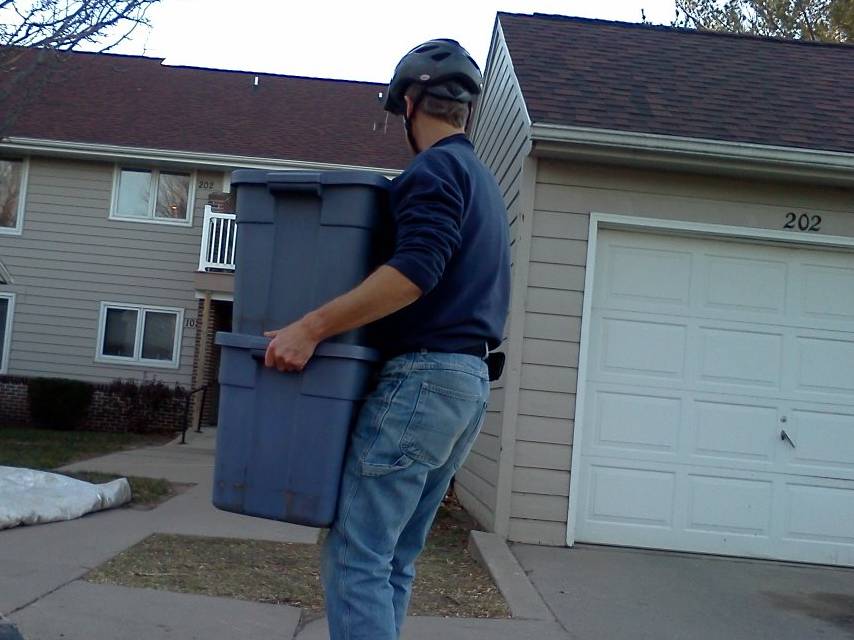 To summarize, here's the benefits of using a Bikes At Work trailer for food shopping:
Groceries are carried securely in optimum-sized containers.
Cargo capacity is easily expanded when necessary by simply stack on more containers.
Groceries stay dry both in transit and while unloading.
Unloading is quick and easy.
Categories: Carfree Living, Cargo Biking