Cross-country Bicycle Trip with a Dog and a Message
2018-04-24
Charles Klopman recently sent us some photos from his trip across the United States with Laddy, his 16-year-old Cairn Terrier.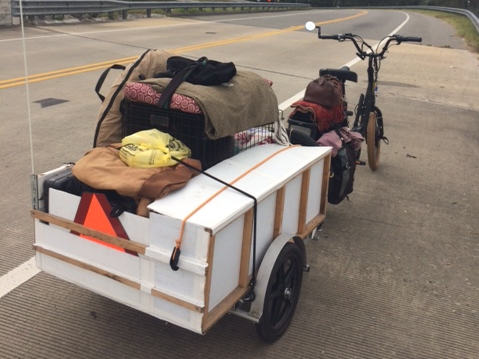 Charles writes:
After selling pretty much everything I owned, I left my hometown of Marblehead, Massachusetts and headed up to Maine. This was to make sure all the equipment was working properly and durable enough. Then, I turned around and headed south. There is no established bicycle route down the Eastern Seaboard, and the going was pretty rough at times. Can't hug the coast because of all the cities and rivers, and I had to stay off major highways (of course).
I'm not an "adventure cyclist" on vacation, and I have no plans on returning to Boston. I believe that if you have something to offer and you focus on trying to help people, you'll find people along the way who will support what you're doing. I have no crowdfunding program and I never ask people for money.
Charles is making the trip to spread the word about something he believes is a major health problem--potassium deficiency.
I talk to people about a specific aspect of public health which affects over 98% of Americans. It is the nationwide deficiency in Potassium. It is the reason so many people suffer from Anxiety, Fatigue, Depression, Insomnia, and Obesity. Half of all Americans are severely deficient, and eventually they suffer from heartarrhythmia and heart attack. Complicating the problem is the government's restriction on the size of a Potassium supplement. While the RDA is 4700mg, you cannot sell a supplement greater than 100mg. Basically, the government prohibits the sale of a Potassium supplement.
But, you can make your own Potassium supplement, and I show people how to do this, using Potassium Bicarbonate. I make mineral water, and show people how to easily supplement their daily needs for Potassium, Magnesium, Sodium, etc. The "instant mineral water" I keep ready-mixed is a supplement for Potassium, Magnesium, and Boron. I have a discussion group on Facebook where I describe in detail how to make your own mineral water ("Dr. Klopman's Elixirs of Life").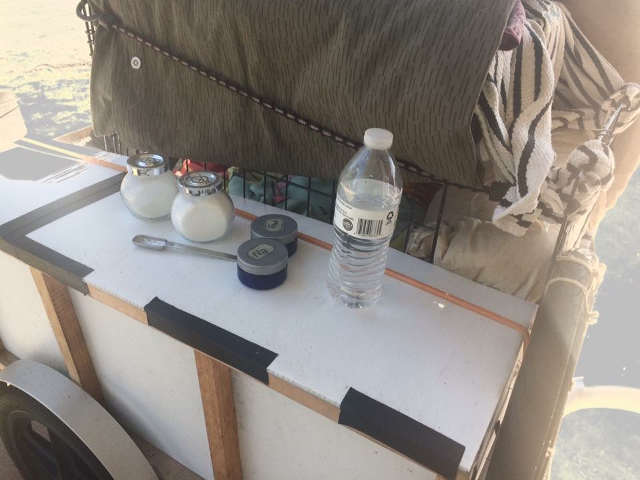 He says he's not very good at self-promotion, but was on a radio show in Boston before he left and has been a subject of four newspaper articles
Charles is making the trip using a Juiced Bikes ODK U500 electric utility bike. He uses one of our 32AW bicycle trailers to carry his dog Laddy and most of his gear. He built a custom wood box for the trailer to hold everything.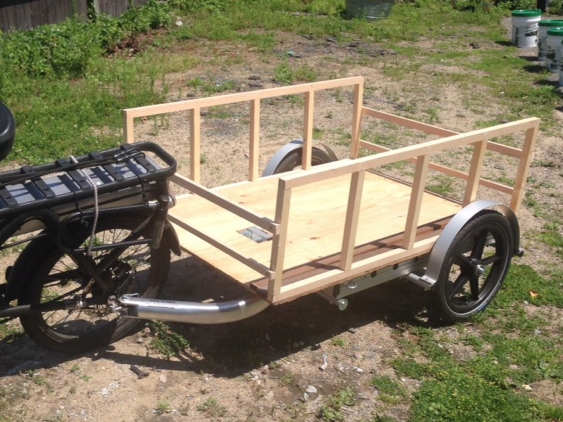 The 32AW trailer was the perfect size: wide enough in case I wanted to extend it into a sleeper later on, short and handy for negotiating the narrow, twisty roads during my trip down the East Coast. The plywood floor extends the bed by about eight inches...
The trailer gets a lot of attention, and everyone is impressed with its build quality.
The original trailer configuration lacked a cover for Laddy, who rode in a metal create on top. He later made a canopy to cover Laddy on the trip.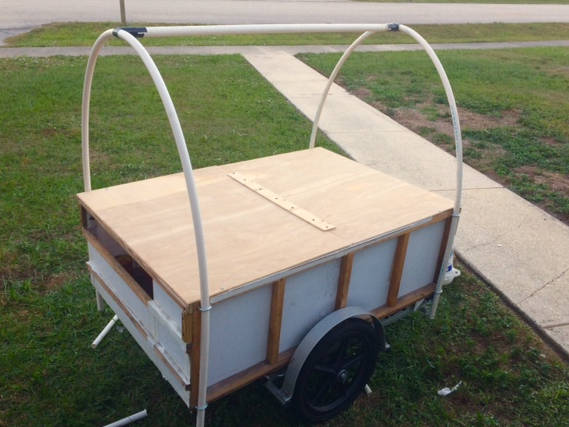 Charles left Marblehead, MA, on July 1st, and reached Port Charlotte, FL, on Christmas. This Spring he'll be headed northwest to Colorado, then on to San Diego for the winter. If you'd like to get in contact with him, you can find him on Facebook.
Categories: Customers