Bicycle-Powered Landscaping Service
2018-07-30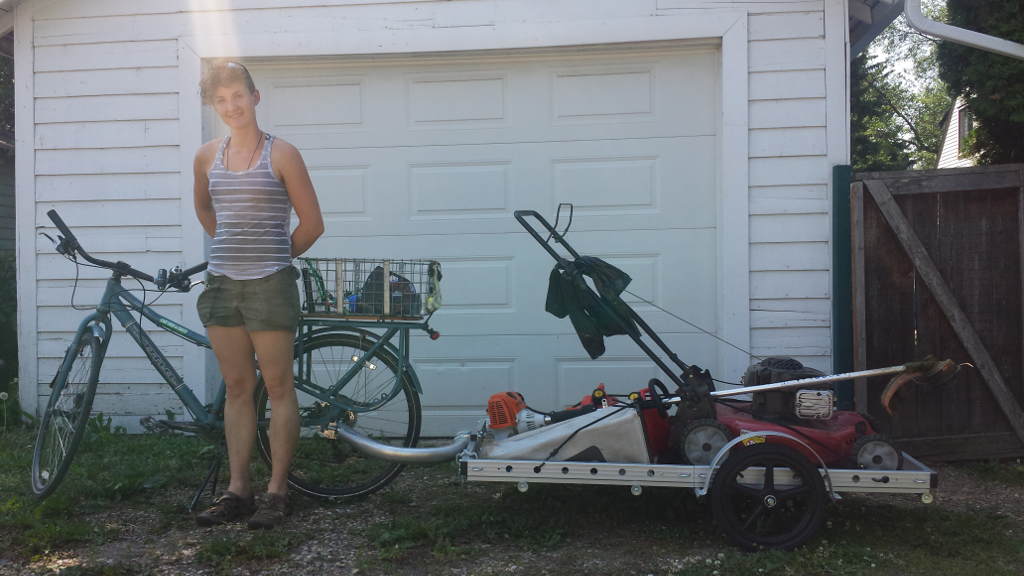 Nadia Berg recently sent us the above photo of her bike and
64AW bicycle trailer
that she uses in her landscaping business that she operates in Edmonton, Alberta, Canada. I asked her if she we'd be willing to share some more information about her business for our blog. She generously wrote the following:
I am the sole proprietor of Pride Landscape Maintenance, here in Edmonton, AB. I mow lawns and do spring/fall cleanups, hauling all my equipment around with my bicycle trailer :). In the winter I do snow removal, but without the trailer - I attach a shovel to the frame of my bike, have a blow-pack on my back, studded tires, and the gas can in the basket. I've been exclusively self-employed for 2 years now, but have been doing snow removal to support myself in the winters for the past 7 years. I thought I'd need to get a truck at the very least if I wanted to be completely self-employed in the summer, and I didn't want to have that burden. I didn't end up getting the bicycle trailer until last summer. Most of the properties I maintain are residential, but I also maintain a few commercial sites. Eventually, when the technology is better, I'd like to get more environmentally friendly equipment.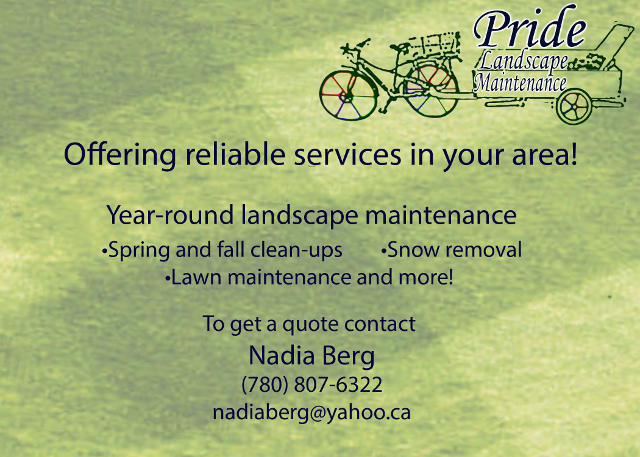 I don't need to drop off flyers anymore because people just stop me when I'm working, or get referred to me from my current customers. Some people think that I must work very hard because I'm hauling my equipment around on the trailer, but it does not feel heavy at all - I just accelerate more slowly and use different gears so it feels the same to my legs; I don't work nearly as hard as I did when I worked for somebody else, for 60 hrs/week - and then did my own few sites after work. I got tired of giving up all my summer time and energy for somebody else, and knew I'd never be able to have a balanced life or a family some day working those hours.

I don't have to work as much because I don't own a vehicle, not the other way around. I'd have to work more if I were trying to pay for a vehicle and the gas, maintenance, repairs, parking, insurance, etc for that vehicle; I currently spend less than $20/month on fuel for my equipment, and around $500/year on bicycle and equipment maintenance/repairs (because I pay somebody else to do that for me). My sites are all close to home - 75% are less than 1km from my place, and if I were to get a flat tire I could patch it right there in under 20 minutes (and there are six bike stores within a 2km radius from my place if I needed help or supplies).

I value my time a lot more than money; I need enough money to have financial security, but I don't need much for that! I don't have to pay for a vehicle or a smart phone (my cell phone is $20/month, and is 6 years old now), and I don't drink, smoke, or do drugs. I am not on facebook and haven't felt the need to make a website for my business because I want it to stay local and simple, and I have enough work :). I don't plan on growing my business beyond what I can manage on my own at this point.

I feel extremely lucky to have the life I've built for myself! Since I became completely self-employed I've found myself in the best relationship I've ever been in, I have an active social life, am able to sleep in for most of the year (I have to get up quite early when it snows though), and have plenty of time to putter around in my garden. It is a pleasure to work for so many lovely people without having to deal with petty workplace drama or unnecessary stress :). The bicycle trailer is an integral part of my story!
Thanks, Nadia, for sharing your story about your business!
Categories: Customers, Cycling for Profit