Bicycle Gearing and Gear Inches
2004-01-01 (updated 2012-02-01)
Most cargo bike and trikes have a variety of selectable gear ratios. A lower gear ratio is preferred when accelerating, pulling heavy loads, climbing hills, or riding into the wind to reduce the amount of pedaling effort required. A higher gear ratio is usually chosen when empty, going downhill, or when the wind is at your back to increase speed without having to pedal as fast.
Constant Cadence
Many novice cyclists make the mistake of choosing one gear and riding in the same gear most of the time. This limits their speed and increases their pedaling effort. Experienced cyclists, by contrast, change gears frequently. They start out in a low gear, then once their pedaling speed increases to a certain amount, they shift to the next higher gear. When their pedaling speed drops off, they shift to a lower gear. They try to maintain a nearly constant pedalling speed, or cadence, by frequently changing gears. This allows them to maintain a higher speed while reducing fatigue.
Bicycle Gearing Systems
On a bicycle, there are two sets of sprockets, the front sprocket to which the cranks are attached and the rear sprocket mounted on the hub. These are often referred to as the driving sprocket and driven sprocket, respectively, because one drives the other.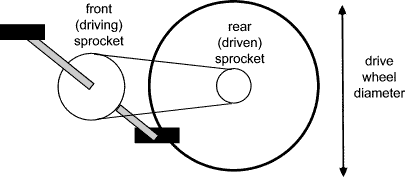 Usually there are multiple front and rear sprockets shifted by derailleurs to obtain different gear ratios. Some bikes or trikes may use an internal gear hub where most or all of the different gears are located inside the rear hub.
Gear Ratios and Gear Inches
The overall gear ratio of a bike, trike, or other type of human-powered vehicle (HPV) is determined by the size of the sprockets (gears) and the wheel diameter. The effective gear ratio of a particular sprocket combination on a bicycle is easily calculated using the following formula:
(# of teeth on driving sprocket / # of teeth on driven sprocket) X wheel diameter
If the wheel diameter is measured in inches, this formula produces a result in units of gear inches. Gear inches are often used to compare the gearing of different HPV's.
If a bike has an internal gear hub, then the formula above is slightly modified:
(# of teeth on driving sprocket / # of teeth on driven sprocket) X wheel diameter X hub gear ratio
where the hub gear ratio is the gear ratio of the internal hub. This can be determined by watching how many times the wheel revolves for each revolution of the driven sprocket on the hub.
Mid-drives or idlers
Some trikes often have one or more additional sets of sprockets between the front and rear sprockets. These mid-drive or idler sprockets can result in a set of higher and/or lower gear ratios than is possible using just a single front and rear sprocket.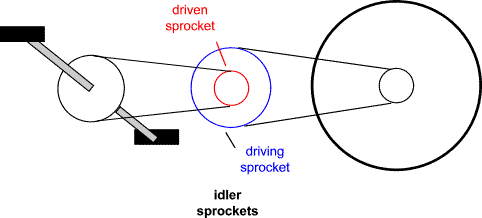 The formula under these circumstances is similar--just break the system down into a series of chain drives and multiply the gear ratios together:
drive ratio 1 X drive ratio 2 X wheel diameter

where:
drive ratio 1 = # of teeth on driving sprocket on chain 1 / # of teeth on driven sprocket on chain 1
and
drive ratio 2 = # of teeth on driving sprocket on chain 2 / # of teeth on driven sprocket on chain 2
Again, when the wheel diameter is inches, the resulting number will have units of gear inches. This makes it possible to compare the gearing between bikes and trikes regardless of whether or not they have idler sprockets.
Gear Inches, Cadence, and Speed
Vehicle speed can be calculated from the cadence and gear inches of the gear combination used:
Speed = cadence (in rpm) X gear inches X pi / constant
where:
pi = 3.142
constant = 1056 (for results in mph) or 644 (for results in Km/hr)
The Importance of Low Gears
If you've used our weight capacity calculator, you've probably noticed that a person can move the most weight when riding at slow speeds. Slow speeds are obtained with low gears. So, to carry heavy loads, it's important that a cargo bike or trike have sufficiently low gears.
How low? For loads of about 300 lb, we'd recommend a gear no higher than that found on a typical mountain bike (about 20 gear inches). For larger loads, the lowest gear should be even smaller.
However, very low gear ratios are of questionable value. For instance, a bike having an overall gear ratio of 11 gear inches pedaled at 90 rpm would be moving at less than 3 mph--less than walking speed. The need for a gear much lower than this probably isn't necessary.
Categories: Cargo Biking