A Groundskeeping Bicycle Trailer with Side Panels
2016-09-30
Bryn Athyn College is a small liberal arts college located near Philadelphia, PA. They recently purchased two 64AW bicycle trailers from us to use for groundskeeping. They use them to haul branches, flowers, weeds, some mulch, and carry tools around.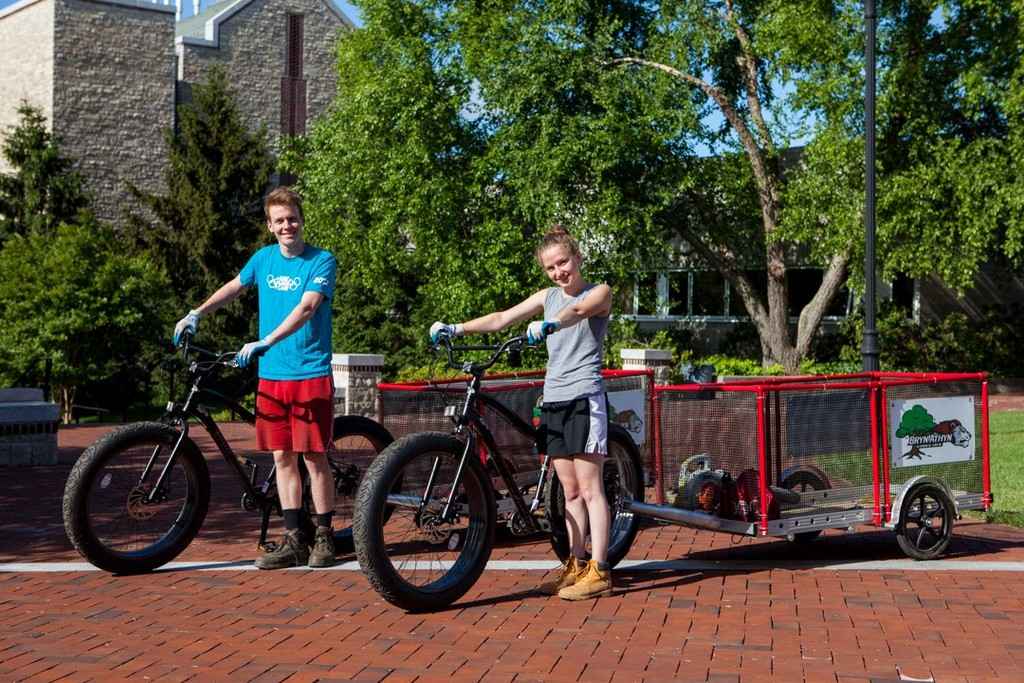 They wanted a some sides on their trailer to help hold their cargo in place. We have some instructions on our web site on how to make panels using a solid material like plywood or Coroplast, but they came up with a different method that I thought was worth sharing.
Their enclosure is made using coated-wire fencing and PVC pipe. They used 1/2" PVC pipe and PVC pipe fittings to make a frame for the fencing material. They attached this PVC frame to the trailer using the U-bolts that are built into the trailer's sides. Then they wired the fencing to the PVC frame.
Here's the list of materials you'd need to do one 64AW trailer. In addition to the PVC pipe and fittings, you'll need some fencing, too.
| item | quantity |
| --- | --- |
| 28 1/8" pipe for length sides | 8 |
| 29 3/16" pipe for width sides | 2 |
| 26 1/2" pipe for posts | 8 |
| T joints for middle of trailer | 4 |
| elbows for corner joints | 4 |
| 1 5/8" pipe pieces to go between T joints. | 2 |
You can adjust the quantities accordingly to make a frame for other models of our trailers. If you are making a frame for 32A, 64A, 96A, 64AD, or 96AD trailer, replace the 29 3/16" pipe pieces with ones 21 3/16" long.
This looks like an inexpensive method of making a durable, lightweight mesh frame to fit our trailers. Special thanks to Micah Alden, facilities manager at Bryn Athyn, for sharing it with us, and for supplying the list of materials and photos.
Categories: Customers